If you have been in the marketing space for any amount of time, you will know that email marketing is almost the granddaddy of digital marketing. It's as old as can be, but that's because it works. Time and time again, these campaigns deliver solidly for businesses aiming to grow their online presence.
However, there are a number of considerations in developing a sure-fire approach that will really deliver. Read on to find out how to supercharge your next email marketing campaign.
Build & Segment Your Email List
The most important factor in getting started with a campaign is to build your list. This can take time to do, but once you start the process all future email campaigns will benefit from the time you invest now.
Once you have a workable list, it is time to segment that list according to the various customer profiles you serve. A great way to ensure that the segmentation is spot on is to allow your customers to self-segment when they sign up by choosing topics, products and services that are most relevant to them. This will help you to ensure that you create great content that is right up their alley each and every time.
Design Your Email Marketing Campaign
The design is so important. Though email marketing has been around for as long as email, your campaign shouldn't look as though it's been around the block. Design your email for visual appeal and ease of use. Include your business branding so that your email is instantly recognisable.
A wall of text can turn people off. Mix it up by including various visual elements which brighten up the screen and give the eye a break. You can consider photographs, illustrations, infographics and gifs to jazz up the content inside your email.
The length of your email is also important. It should get across the necessary information without going on for longer than needed.
Personalise Your Email
Take the time to invest in your audience by addressing them individually. One of the easiest ways to lose people is to treat them as a number. We are all unique and like to be treated as such. There are different degrees to which you can personalise your campaign. The easiest way is to use their name, I have noticed that when I get an email which uses my name in the body of the email in addition to the opening, I respond more favourably – even though it took very little effort on the part of the sender.
You can also use account information to tailor your campaign by sending an email to alert your customer that a renewal is approaching.
Make Your Email Interactive
Going back to our earlier point about design, your email shouldn't just look good, it should also offer options for your audience to engage. From early on in life, when as kids we want to know what happens if we push 'this' button, we are inquisitive beings who love to be able to interact in some way. You can satisfy this need in your audience by including videos, links to relevant web pages and offering an opportunity for them to have their say.
When your campaign is interactive it transforms your audience from passive to active. They become an active member of your community, which is made up of individuals who care about the same things they do. This can be a very powerful feeling as online communities are just as important today as our communities in real life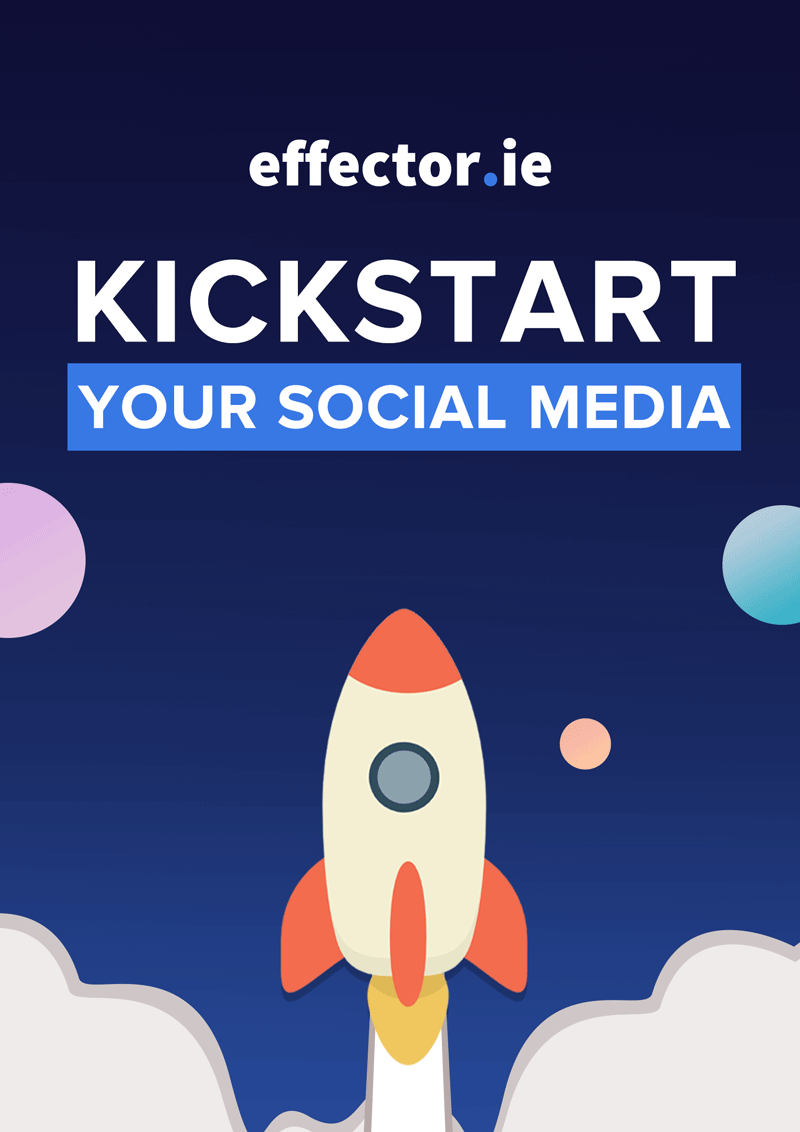 The Effector Guide to Kickstart Your Social Media
Struggling to get started with a consistent and effective strategy online? Use this guide to develop an understanding of how to make social media and other digital tools work for you and your business.
GET THE FREE GUIDE
Get Creative with Functional Emails
There are certain emails which have a specific purpose in mind. They are generally transactional emails which confirm that an order has been received, or that it has shipped. But just because these emails are functional, does not mean that they can't be fun! We have all been in the situation where an item we have been excited about gets dispatched and we've been pretty delighted. Why not reflect this enthusiasm in the way you design and word your functional emails?
Be Dependable
The best email marketing campaigns work on a schedule you can rely on week in, week out. Once a user has given you the go-ahead to visit their inbox on a regular basis, you need to uphold your end of the bargain by delivering the useful content you promised on day one. If your content is interesting, useful and targeted at your audience, they will come to enjoy your regular updates and even expect it in their inbox on a given day. Be dependable by sticking to a schedule year-round.
Let Your Fans Do the Talking
If you have invested the time and energy to build up a solid fan base, don't let this effort go to waste. Collect great testimonials from happy customers and include these, strategically, as social proof in your next campaign. Remember, potential customers are more likely to listen to existing customers talking about how great you are over you blowing your own trumpet.
Follow Up
So often, success lies in how we follow through. It's the same in email marketing campaigns! Don't ignore those people who took the time to browse your website or online store and place items in their cart but didn't complete the sale. There are so many reasons that potential customers don't complete the transaction at a given time. There's no need to be pushy, but take the time to send a follow-up email which shows that you are interested and want to be of assistance. This may be all the potential client needs to complete the transaction.
Optimise Word of Mouth through Referrals
People talk. We know this. For better or worse, your customers will talk about you when an opportunity comes up in conversation. Hopefully, your customer service is in such great nick that they will rave about you (if not, now's the time to address that).
Given that word of mouth is inevitable, why not optimise the process for the benefit of all. An easy to use referral system rewards both the loyal customers and the newcomer willing to give you a chance, while benefitting your business too.
Don't forget to make emails about your referral scheme reflect the feel-good factor involved in the process.
Email marketing is the old dependable in the digital marketing world. It may not appear to have the bells and whistles of some of the newer approaches, however, it can be even more successful than other methods and with a little effort are simple to create. Try some of the above tips in your next email marketing campaign and see what a difference it makes. If you're struggling, we'd be happy to help you develop a successful campaign. Contact Effector here!
Click here to learn more about how we can help you use digital tools to drive business results, and feel free to reach out if you've any questions!