Social media has become an integral part of most businesses online presence in today's world. Whether we use social media much ourselves, it is clear that regardless of what industry we're in, most of our audience are active somewhere on social media.
While maintaining an active social media presence is key to ensuring your business stays visible and relevant online, the need to advertise on the social media networks is growing day by day. Often small businesses complain that their organic posts are not visible to their audience and this is no coincidence. Social media platforms offer some great advertising options, and they want us to utilise them.
The trick to mastering social media using social ads is to know your audience and create ads which speak directly to them and to their tastes on the social media platform that they are most likely to frequent. There are a number of considerations to be aware of. Let's delve a little deeper.
Facebook
Facebook remains the granddaddy of all social media platforms. While newer social networks have come on stream in recent years, none of them has been able to topple Facebook from its premier position. In fact, Facebook is only second to Google in terms of digital ad revenues globally. In 2017, Facebook has 16% of the global digital ad spend and 23% of the global mobile ad spend.
What does that mean for you and your business?
If you are considering being on social, and there are many reasons you should, then Facebook is certainly a good option for social ads. This is based both on the options Facebook provides in terms of placing your social ads and the wide range of demographics that can be found active on the social network on a daily basis.
At the end of 2016, there was a reported 1.94 billion monthly active Facebook users worldwide. When you compare this to the number of social media users in 2017, 2.46 billion, that is quite a sizeable share of the market. If your audience is online, chances are they can be found on Facebook.
Facebook offers five different types of social ads. Photo ads, video ads, carousel ads, which allow you to rotate a number of images with text and links, slideshow ads which makes a video from a collection of images and canvas ads which is an interactive full-screen advertising option for mobile.
The ability to target with incredible precision is perhaps Facebook advertising's greatest asset. You can use a range of options to hone directly in on your target market and ensure that you optimise your spend.
Many businesses see Facebook as the social media network to start with when beginning to work with social ads. This is not a bad approach given Facebook's reach. It is a good idea for most businesses to have a presence on Facebook while customer-facing businesses may find the greatest engagement here.
 Twitter
Twitter is another social media platform which has been around the block. Founded in 2006, just two years after Facebook, Twitter is a social network which is well established. It knows what it does and hasn't altered much in a decade.
Social perception of Twitter has changed in recent years. Many have tired of its 140-character limit and dismiss it as a has been in the social world. If you are serious about making a real impact with your social media marketing, this is not the best view to take.
Twitter is still a major player for businesses online, and probably will be for the foreseeable future. At the start of 2017, Twitter reported that ad engagement was up 139% since the same period during the previous year.
When placing social ads on Twitter, it is very important to make sure that the type of Tweet you're promoting is likely to do well. You can test out your social ads with a small audience first before deploying it to a larger base.
The gender demographics on Twitter are split almost 50/50, while 36% of its users, the largest cohort, are between the ages of 18 and 29.
Twitter Advertising Options
There are three options when placing social ads on Twitter. You can choose to promote a tweet, promote your account or, the most expensive option, secure a place at the top of the trending stories. Trending stories essentially are the pulse of what is happening in the world (of Twitter) at a given moment. If a news story is breaking, you will find it on Twitter under trending stories. Large events, such as U2's recent 30th anniversary Dublin gig, tend to trend too. So, securing a spot at the top of this list could be very advantageous to advertisers.
You can also choose your Twitter advertising based on your campaign objectives. There seven possible campaign objectives on Twitter, conversions, engagements, followers, awareness, video views, app installs and lead generation campaigns. Each of these campaign types employs a strategy which will boost the metric you're looking for and you will be charged accordingly.
Linked In
Linked In is the 'business' social network. If you run a traditional B2B business that may not have the bells and whistles visually to engage on some of the more what might be called trendy social networks then Linked In may be the right option for you and your business. No, we're not calling you boring! It's just that every business has a place on social media and identifying your niche is key to achieving success in your social media marketing campaign.
Success comes from being who you are wholly and authentically. If you operate in a serious industry, such as the legal profession, for example, while Facebook, due to its size may be a good option, some of the other social networks just won't suit the tone of your business.
Apart from the tone of Linked In, it is also important to consider the options placing social ads on this platform gives you. Linked In advertise themselves as the place to do business, and with good reason. Your Linked In profile is your professional profile and while people do network there, people use it, almost completely, in a professional capacity. Linked In users don't care what cute antics your cat gets up to or what you ate for breakfast. On Linked In, users show up for business – and your social ads can get right to the heart of the matter, without delay, when used well on this social media platform.
The concentration of male users is slightly higher on Linked In at 31% versus 27% of women. Most of these users are located in urban areas. However, the biggest demographic differentiator with Linked In is that a whopping 50% of its users are educated to college level.
Linked In Advertising Options
You can choose to advertise on Linked In using display ads, sponsored InMail (delivers your content directly to user's inboxes), sponsored content, text ads and dynamic ads. The last two appear in the bar to the side of the screen. Advertising on Linked In can be more expensive than other social media platforms, so it is important to ensure that you tailor your ads directly to your LinkedIn audience. When done right it can be very effective but can be costly if misapplied.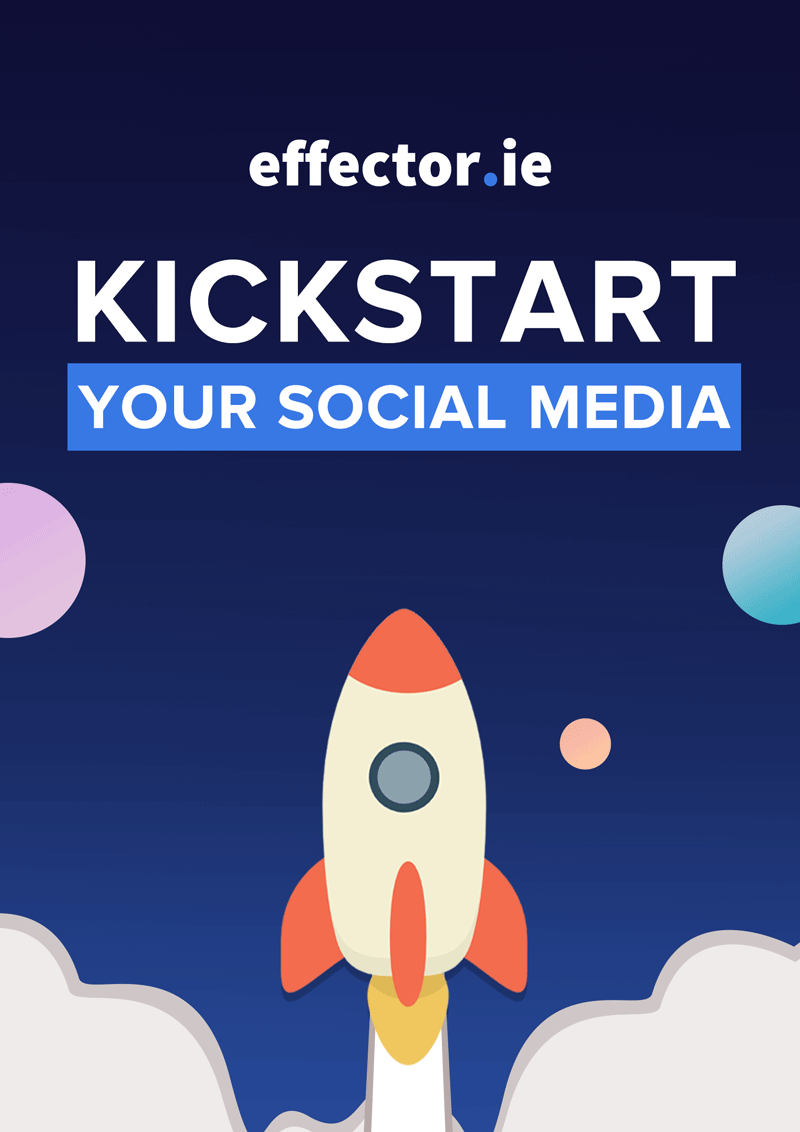 The Effector Guide to Kickstart Your Social Media
Struggling to get started with a consistent and effective strategy online? Use this guide to develop an understanding of how to make social media and other digital tools work for you and your business.
GET THE FREE GUIDE
 Instagram
Instagram is now the visual social media network. It is a great place for users to post their photos and video content for all to see. This necessarily means that if you want to advertise here, you should have an offering that is highly visual or relative to users who love to consume visual content. If not, then advertising here is unlikely to offer you the return you want.
Owned by Facebook, much of Instagram's functionality works in the same way as Facebook's. Though you may hear a lot of talk about Instagram as it has boomed in popularity recently, it is not a given that you should advertise here.
Though Instagram is owned by Facebook, it is frequented by a different audience. The numbers are not the same, (700 million monthly active users as of April 2017) and the demographics also differ. The greatest cohort of users on Instagram are women between the ages of 18 and 29. 39% of users live in an urban setting and their income levels are split evenly among users
The advertising options on Instagram are much the same as Facebook's and so allows for precision targeting.
Pinterest
Pinterest is a social media platform which we can sometimes overlook when it comes to social ads. However, if your audience is chock full of happy pinners, then Pinterest may just be where you should be focussing your energies.
Pinterest began as somewhat of a niche social platform, however, it has become a real player, where social ads are concerned, in recent years. It works exceedingly well for businesses who operate in the visual industries and the user demographics show that the highest number of users are women from a suburban setting.
Interior design is one industry that thrives on Pinterest. Crafting is another huge area on Pinterest, as is beauty and food. Think of all the fantastic looking images people pin on Pinterest. Does your business have a visual audience who would be likely to engage in that way?
Social ads on Pinterest are pretty straight forward. You choose an existing pin to promote and can opt from three types of campaign. There are campaigns to build awareness of a brand, campaigns that increase engagement and ones that funnel visitors to your website.
 Snapchat
Are a large component of your audience teens and young adults? If so, Snapchat may be the place for your social ads.
Snapchat differs from other social media sites in that it is a messaging app which auto deletes a user's content on a daily basis. Users can share all sorts of content with friends, safe in the knowledge that it won't be visible into the future.
Started in 2011, Snapchat is one of the newer kids on the social media block. That said, it has quickly attracted huge numbers of young fans. Now at 158 million users, Snapchat is most popular with the under thirty age group. 56% of users are between 18 and 29 years of age. The income level of Snapchat is lower than most of the other social networks, as most users are still in full-time education. However, if you are aiming directly at this market, as you well know, it is the spending power of the parents that counts and it is not that Snapchat users do not have resources available to them.
Snapchat advertising comes in three formats. Snaps ads runs videos between stories, sponsored or on-demand geo-filters allow users to add overlays to their snaps, while sponsored lenses are a highly interactive type of ad incorporating graphics and sound into user's images.
On Snapchat, on-demand geo-filters are the only advertising option you can set up yourself. You need to arrange the other options in connection with the social network itself. With the on-demand geo-filters, you can upload your image, choose the geographic area you want it to cover and then set the length of the campaign. As the focus is on location, you cannot do the same sort of demographic targeting of the sort available through Facebook. However, the geo-filters may prove very useful if you are running an event you want to highlight in a specific location.
In Summary
Social media can and should play a key role in any comprehensive marketing strategy. However, a blanket approach will require more time and effort than you will see returned in yields. There are a number of social platforms to choose from when placing social ads and each of these offers a number of options in terms of ads themselves and campaign types. Doing your homework in advance of kicking off any social media campaign will help ensure a good ROI from the start.
Click here to learn more about how we can help you use digital tools to drive business results, and feel free to reach out if you've any questions!