While social media is a fun place to be, when it comes to business, it can be hard work. Especially for small businesses who are trying their best to make an impact in a crowded space. However, you don't need to be a large company with hundreds of employees to create exceptional social media content.
Here are ten tips that anyone can use to increase their impact on social media.
Know Your Audience
Before you start trying to engage with your audience on social media, you need to know who they are. Who is it you want to engage with on social media, and why?
Social media is a great tool for business, but there's no point in doing it just for the sake of it. Without a social media strategy and a clear idea of who we're talking to we can end up creating content that appears as little more than white noise.
As the range of social media platforms expands ever more, different groups of people can be found in higher numbers on different channels. Find out where your audience is and what they like to use social media for. You also need to know what's important to them, what makes them tick and the type of post that is most engaging for them.
Some research among your existing customers can help, as can checking out what your competitors are doing on social media.
Listen to them
We all like to be heard. When we have a problem or concern, or even a good idea, it's nice to know that someone is listening. If any of these situations involve your brand, then you need to sit up and pay attention. This is a great way to raise your game from average to exceptional social media.
We've all been in a conversation at some point in our lives when we've felt that people just weren't listening to us. What is our usual response? We stop talking. But later on, we'll find someone else who does listen and complain about our earlier experience. Do you want to be the business who didn't listen?
In online marketing, listening or not, can either create a positive atmosphere or a negative one. For example, Starbucks provides an opportunity for customers to pitch in their new ideas. Not only does this feed the company with great raw material which can be worked into a new offering at some point, but it also makes their audience feel important.
Deliver on their Needs
When you take the time to get to know your audience and what they need, want or expect from you, it's time to ensure you deliver. Good intentions only go so far, it is action that makes the difference in creating exceptional social media.
Customer needs will vary depending on the industry you're in. You may find that ultimately your customers want speedy, hassle-free service, while for others speed may be the last thing on their mind, for them, it's all about the attention to detail. Whatever your audience wants is what you need to give them, not just in how you interact with them in person but also in any online interactions.
Make it Look Good
Visuals are hugely important in social media and you need to create posts accordingly. We know that people consume social media on their mobile phones, often when they're on the go. We scroll on social media, browsing just to see what's going on and we stop when something grabs our attention. That may be a catchy headline or a great graphic.
Pay attention to lay out where possible. While you cannot control how a tweet appears, you can ensure that any images or videos that you post with it look good.
Remember too, that on Facebook, much of the time users watch videos with the sound off. Therefore, any video content you create for this platform needs to make sense and be engaging even when played silently.
Make Your Posts Accessible
This links back into knowing and understanding your audience well. Your content needs to be created using words and phrases that your audience understands. Highbrow or academic style writing can put some people off as can presenting ideas which may unintentionally alienate some viewers. Humour can be one area that can raise issues. If you want to promote your brand as a fun brand that's great, just make sure that the humour is good clean fun that everyone can enjoy.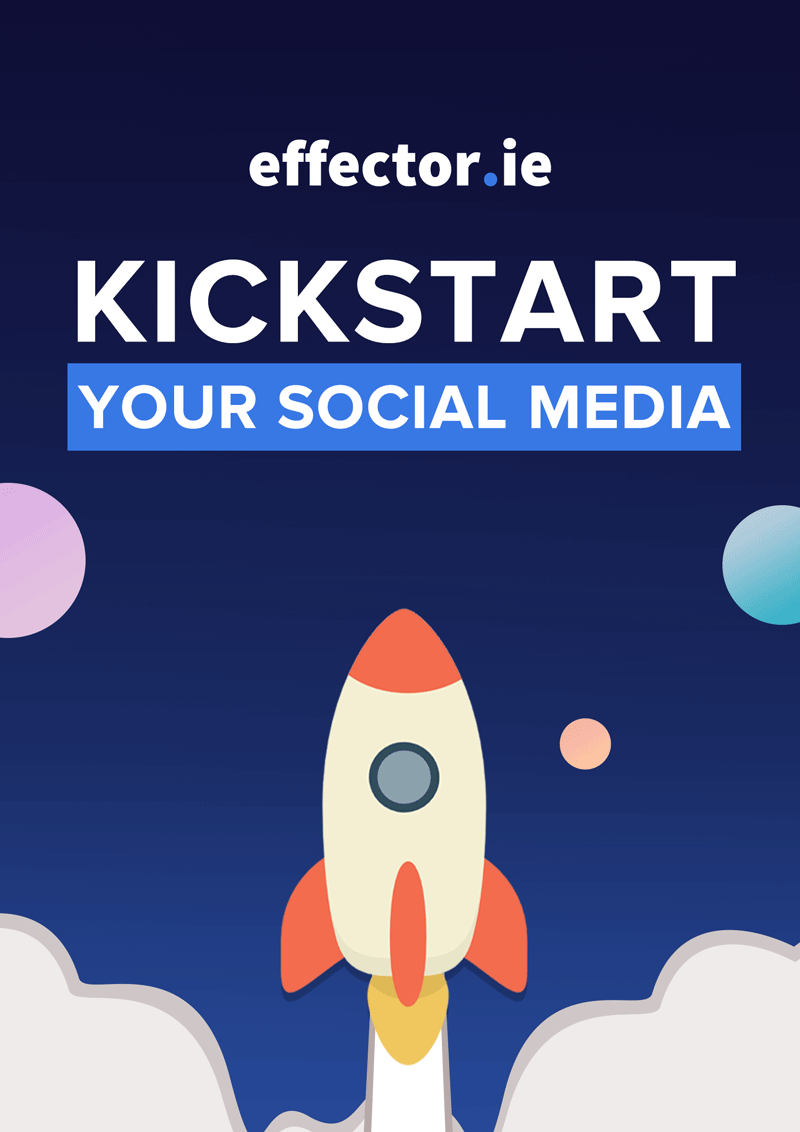 The Effector Guide to Kickstart Your Social Media
Struggling to get started with a consistent and effective strategy online? Use this guide to develop an understanding of how to make social media and other digital tools work for you and your business.
GET THE FREE GUIDE
Add Exceptional Value
If your audience looks to you as an expert in your field, then ensure that what you offer on social media reflects and honours that. Create useful, information-rich posts which your audience can implement right away, without having to spend a penny.
You can also add exceptional value on social media by going above and beyond the call of duty – more on this in point no. 8.
It's not all about you
Some of the most exceptional social media campaigns are ones that involve a brand taking a supporting role rather than being centre stage. Even though you want to use social media to grow your business, that is not your audience's prime objective. Pushing your brand all the time gets boring and your audience will disengage.
Try campaigns which involve more than just you. For example, Disney had a very successful social media campaign to raise funds for the Make a Wish Foundation and Microsoft ran one in celebration of International Women's Day where they celebrated women in science & technology. These two campaigns clearly put another cause at the centre while the brand simply supports it.
Use Social Media as a Customer Service Space
Social media is an easy way for customers to get in touch with a company without having to track down a phone number or wait a number of days to get a response via email. It's no wonder that so many people now see social media as an extension of a company's customer service department.
Whether you see it as a space for dealing with customer queries and complaints or not, if your audience sees it that way, then you need to be prepared to do the same. A customer may choose to address you or your business on social media at any time of the day or night and, as far as is practicable, you should be able to respond – particularly when it is a complaint.
A complaint dealt with in the right way, at the right time can turn a negative situation around and secure a customer into the future.
Perhaps one of the worst things you can do on social media is to delete a negative comment. It will only infuriate the original poster and let the rest of your audience see that you don't care about what your audience has to say. Try to put yourself in the customer's shoes and make them feel better about the situation in whatever way you can.
Don't just be there. Engage.
Almost all businesses today recognise the importance of having a social media presence. However, interpreting presence as simply having a Facebook page or Twitter account is missing the point. A presence means that you are actually present, engaged.
Much of the time when we post about a large company or brand on social media, we don't expect them to respond. If we as social media marketers break through that expectation by responding in a friendly manner we can effectively raise the way our audience views us in real terms. Little things such as saying thank you for a great review, using a person's name or following up with a customer who expressed dissatisfaction before can all make a big difference to the way we and our brand are seen on social media.
Reveal the Heart of Your Brand Identity
Being super clear on your brand identity is a key element of marketing your business. It sets the parameters for most of what you do in marketing. Social media is a great way to show your audience who your brand is and what you stand for. We can spout mission statements all day long and not really make an impact on people. How we act on social media lets people know that how we behave aligns with our core values. When we act out our brand identity on social media it builds trust and support for what we are trying to achieve.
Remember that social media is called social for a reason. If you focus on creating real social connections with your audience you will find that in time they change from just a passive audience into an engaged community of loyal followers.
Click here to learn more about how we can help you use digital tools to drive business results, and feel free to reach out if you've any questions!