Storytelling is such a powerful tool in when it comes to Instagram Stories simply because it is something that filters through into every part of our lives. We love stories, whether that be a tale told by a friend in the pub, a gossipy story told behind cupped hands at work or a saga between the pages of a book. Stories tune into the heart of who we are as people and any tools which promote storytelling in a compelling manner can be a great way to grow your business. Instagram stories is one such tool and below we share Effector's ten tips on how to use Instagram to grow your business.
Showcase Brand Identity
Storytelling on Instagram is a great way to showcase your brand identity as you can do it in so many different ways. Think of your brand identity as everything that you are and stand for. It's not just your logo or slogan, these are created with your brand identity in mind, but your true identity is so much bigger than any one thing.
You can use images, videos and text to create a multi-layered representation of your business and brand using Instagram stories. It really can be quite powerful.
Promote the Benefits
Not only is the identity of your brand important, but also what the customer or audience member stands to gain by being a part of your community. The benefits of what you do should make an emotional connection with your audience. That is not to say that it has to be tear-jerking content, it can instil a sense of peace, joy, fun, whatever emotions you want your audience to have when they think of you should be conveyed using the content you use in your storytelling on Instagram.
Post Exclusives
We all like to feel like VIPs at times. One of the easiest ways to make your audience feel special is to give them exclusives. It may be something just for your followers, that no-one else has access to – or it could be an Instagram exclusive.
NASA made a decision to post an exclusive image of the Pluto flyby exclusively on Instagram and managed to double its number of followers over the following six months. If Instagram is where you want to focus your energies, then posting an exclusive there should boost engagement on that channel. You don't have to be NASA to do this either. You can post exclusive 'behind the scenes' posts that allow a glimpse of those restricted access areas we don't normally see.
Make it Personal
Let's go back to basics here on storytelling. One of the reasons we like stories so much is because it breaks down the walls between us, we get a glimpse inside the life or head of someone we normally don't have access to – and we love that!
When storytelling on Instagram for your business, don't be afraid to share your own story. The CEO probably has a great story about what prompted them to start the business in the first place, about the trials and tribulations of building the business, about the successes and the people they met along the way. However, it's not just the CEO that people like to hear about. Those people who make the business tick along day in, day out – they're just as interesting. You might be able to showcase why they love working for the business, the highlights of their job. Really, when it comes to people the possibilities really are endless.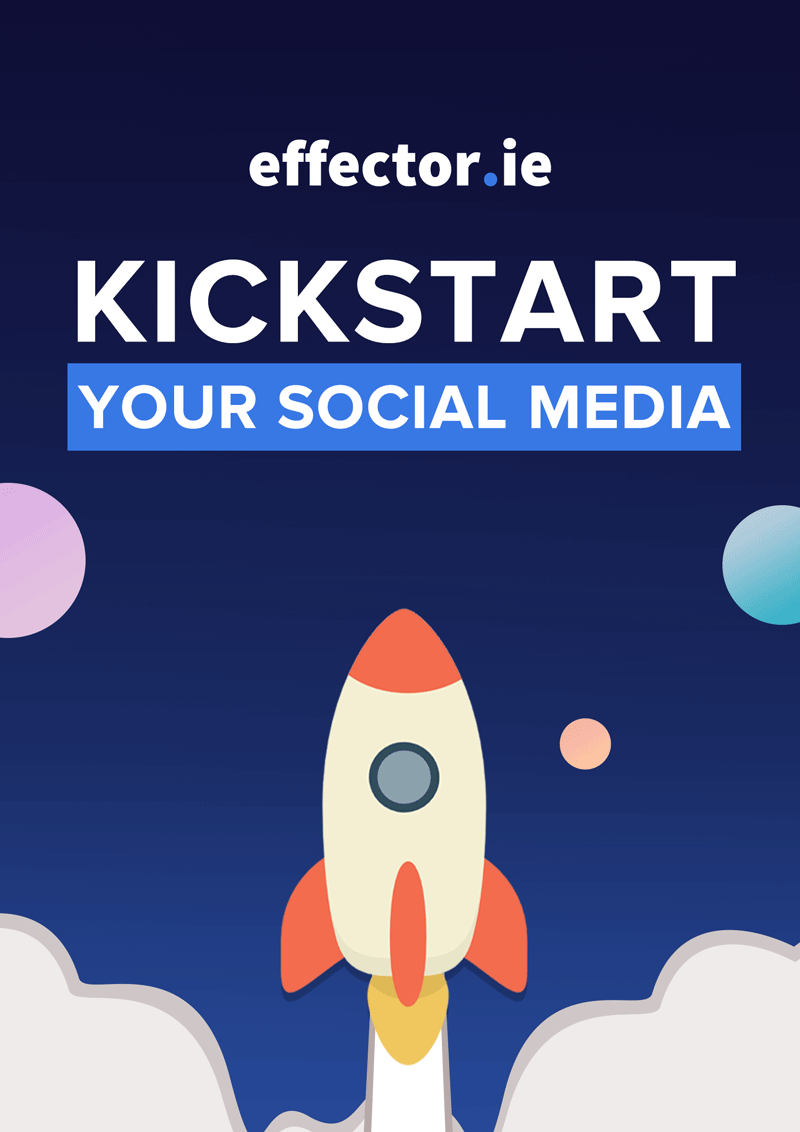 The Effector Guide to Kickstart Your Social Media
Struggling to get started with a consistent and effective strategy online? Use this guide to develop an understanding of how to make social media and other digital tools work for you and your business.
GET THE FREE GUIDE
Be Informative
Your business or brand exists for a reason to add value to people somewhere. This is true across the board, regardless of what industry you operate in. It follows then, that you have some knowledge, skills or experience which you bring to play in providing that value.
Storytelling on Instagram is a great way to showcase this knowledge and expertise in a fun, snappy way. Instagram is not about long-form blog posts where you dive deep into a topic, although they most certainly have their place in the marketing and storytelling mix! However, on Instagram, you can do it in a whole new way. Have fun with it and see where it takes you.
Stay Relevant
As a brand, you should always aim to remain relevant. Keep up to date with developments in the world that affect your business, your industry and your brand values. When you do this, it is easy to sort the relevant content which is of interest to your audience from everything else.
Join the conversation by adding your two cents using the trending hashtags. If something matters to you and your audience then speaking up is a good idea. Not only does it keep your content relevant to your audience, but by using the trending hashtags your brand can be seen by loads more people.
Excite
Storytelling on Instagram is a great way to build anticipation for upcoming events and new lines. We see lots of brands using social media to build that excitement in the run-up to big launches. You can do this too; true excitement is contagious. Have you ever noticed at a live gig how a cheer goes up for no apparent reason at all before the band take to the stage? That's excitement – and it spreads instantly. If you are genuinely excited about new developments in your business then sharing it in an authentic way will help get your audience geared up too.
Get People Involved
We have written before about getting your audience involved in your social media campaigns. Let's take a moment to recap why this matters and why it works. Social media is not just a marketing tool, it is a way for people to connect. Your audience feels connected to you and your brand for some reason. Hopefully, it's because you've been delivering some of the above points. You're in a relationship with these guys and gals in social media land, and they want to be a part of your world. So, let them in.
When you invite your audience to get involved in an active, creative way, you deepen your relationship with them. The content becomes even more sharable, because they made it themselves!
Filter It
When storytelling on Instagram, there is a handy toolbox you can use to jazz up your content in numerous different ways. You can add filters, draw on your images, insert text or fun graphics and that's just for starters! Get creative and let your content stand out from the crowd.
Look to the Past
While today there is a constant desire to innovate, which is great! Looking back in time has its own merits too. Only by studying the past can we see how far we've come and avoid repeating mistakes. How does this apply to storytelling on Instagram? Dig around in the past for interesting stories that your audience may not be aware of, this can create huge interest.
You can also do a Throwback Thursday to a past event, or popular product line. We all love to revisit our youth, injecting some nostalgia into your posts can be a great way to increase its engagement potential.
We hope that the above ten tips for storytelling on Instagram has got some creative juices flowing. Instagram is a great platform with tonnes of potential to create strong last connections with your audience. Try out some of the tips and let us know how you get on!
Click here to learn more about how we can help you use digital tools to drive business results, and feel free to reach out if you've any questions!