It's been nearly a year since the launch of Instagram stories, a feature that lets you share all the moments of your day, not just the ones you want to keep on your profile. You can call it 'Snapchat for adults', a new way for brands to post more on Instagram without overwhelming people's feeds.
In other words, the new feature is an alternative for Instagram's former Like driven success. According to Niall Harbison, Founder of The Lovin' Group;[bctt tweet="That Instagram update is by my count the 6th effort Facebook has had at taking on Snapchat. – @garyvee" username="Effectorie "]
With the launch of any new update, the reaction isn't always going to be positive. Remember when we went bonkers over Facebook ads? But much like everything in life – we got over it.  The CEO of VaynerMedia, Gary Vaynerchuck tells us; [bctt tweet="Anybody who thinks Instagram is going to kill Snapchat is completely out of their mind." username="@Effectorie"] 
One thing is for sure, this will change the game in terms of how we used to use Instagram both personally and professionally. The old Instagram was about what you are doing, whereas Instagram stories is about living in the moment. Because it's just been launched, there are very few businesses actually using the new feature. This means the level of engagement with companies that are using the platform is sky high.  The Effector team put up a Story this morning which was viewed by 50% of our followers within a couple of hours! 
Here's how it works:
As you share multiple photos and videos, they appear together in a slideshow format, your story. With Instagram Stories, you don't have to worry about over posting. Instead, you can share as much as you want throughout the day — with as much creativity as you want. You can bring your story to life in new ways with text and drawing tools. The photos and videos will disappear after 24 hours and won't appear on your profile grid or in your feed. People can see your stories in a bar at the top of their feed — everything from their best friends to their favourite brands and influencers accounts. When you've added something new to see, your profile photo will have a colourful ring around it.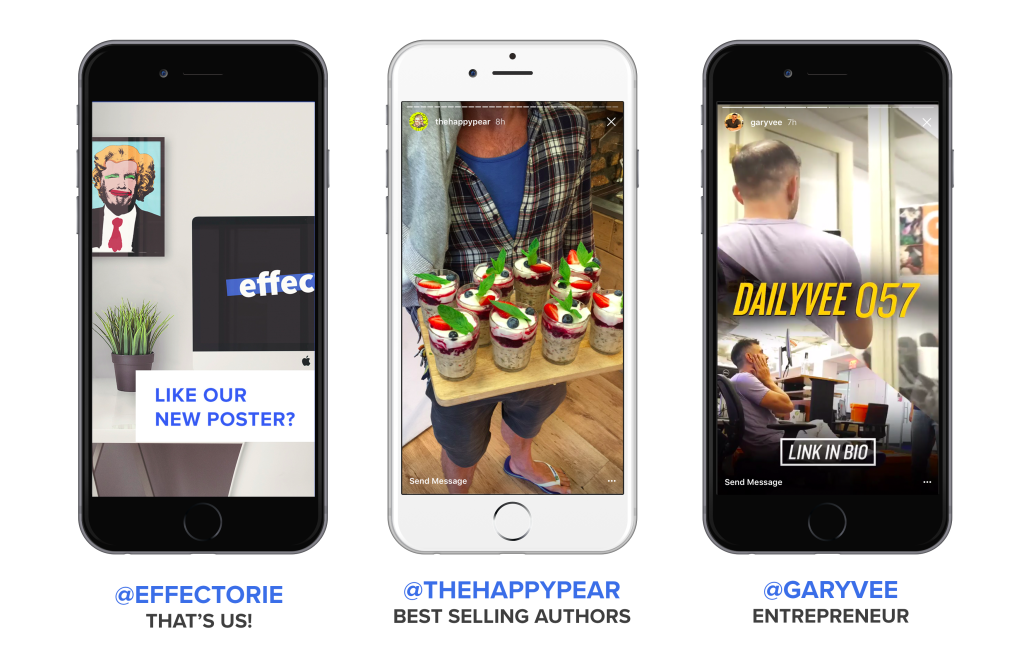 5 Steps to use Instagram stories to build your Brand:
 
1. Shooting & Uploading
Create short fun videos to add to your story. You can even upload content that's been on your camera roll over the last 24 hours. It's important to use it in realtime but remember you can use good content you already have just by downloading it to your phone and uploading it from there.
Check out @effectorie on Instagram to see how we've added infographics to our story.

2. Overlay Text
You can write on top of your 'Grams, then move and resize the text. This is very useful when you're trying to communicate what's happening in the photo.

3. Draw & Add Emojis
You can draw on your videos using a number of palettes and colours. This is a great way to add hashtags or different ways to incorporate your brand into a small snippet of content. Add emojis as if they were real-world objects to augment your images. Emojis bring life to boring content and elevate it to something more.  
Check out the guys over @TheHappyPear who are killing it on social!

4. Get Creative
The old instagram is about showing what you're doing. Instagram stories is about commenting on, making fun of and embellishing your brand's daily moments. Think of it as the perfect way to build brand awareness to catch your ideal audience.

5. Remember, no likes, no judgement
The platform is as successful as you make it in terms of views and engaging with your audience. Since there are no likes – there is a judgement free space to put out content and see what kind of reaction you get. If people want to comment on your post they can tap and send a private message to you on Instagram Direct.
If you have any questions about Instagram stories or how to use social media to build your brand, we are always here to help!
SMARTER THAN YESTERDAY
.
Effector utilises digital tools such as Social Media to grow your business,
see if we're a good fit for your brand today.