Updated January 2022
Organic reach has been a significant part of the appeal of social media channels for the last 10 years. Despite that, it's no secret that organic reach has been in sharp decline. The feed is cluttered. Pages that people followed years ago are no longer relevant. The sheer volume of content makes it much harder to stand out, especially when it feels like you're blatantly selling. 
Despite all of that, most brands are still approaching social media with a linear mindset:
X posts per week on our page

Y engagement generated

Z page followers
It's easy to consider your social media audience as an "owned" asset, something you've built over time, but we often see that although you may have a large social audience, only a small portion of those are actually seeing your content. 
For many, this is no surprise and I don't want to tell you what you already know. These insights, however, force us to revisit our approach to social media for 2022. Social media usage overall is continuing to grow, but the channels and tactics required are changing. There are still many brands in Ireland that are not utilising these channels effectively and driving a clear return on investment. 
Firstly, social media ads can cover 3 main types, depending on where they're used in the funnel:
Content Engagement

 – Promoting your page content past your current followers to a new audience. This is often referred to as "Boosting", but can also be done via the Facebook Ads Manager, which will allow for more advanced targeting options.

Backend Targeted Advertising

– This uses Facebook data points to target an audience we've not yet reached in any significant manner 

Remarketing

– Serving ads to those in specific segments who already have visited your website, signed up to your email list or watched your video content and can be led towards a conversion.
Goal Setting
With social advertising, it's important to paint a picture of what success looks like. Once we have a specific goal in mind, we can create an advertising funnel fully tailored to that goal. This prevents a scenario down the line in which ads aren't driving the results you wanted.
For example "To hit my sales goal I need to generate 200 E-Commerce Sales per month"
It's important to remember that most people won't go from ZERO to SALE instantly. You'll need to warm the user up first and build an online relationship with them by:
Building your brand awareness and sharing your product/service benefits

Providing value for free before asking for something in return

Capturing leads via a lead magnet or a strong pitch that makes it worthwhile for them to provide their info.
As customers move down your funnel, you'll "warm" them up to your brand/product in the process. You can then set sub-goals to help to get to your primary goal. This could include people reached, landing page views, or product adds-to cart.
You'll see these stages in more detail below.
Our Methodology
With such a variety of content and advertising posted across your social channels, it's easy to lose focus and lack clarity when it comes to determining the right message, to the right audience, at the right time. This digital marketing funnel covers 4 stages, from a customer unaware of your brand to a brand advocate that returns and tells their friends!
Phase 1 Attract:
This stage is ultimately about engaging your target audience with insightful content that provides value, well before we ask them for something in return. Your customers begin their buying process online, and therefore you need to make sure you're there to show how you can provide value.
Before you look at targeting, you need to catch their attention first.
It doesn't matter how strong your message is, if it's not presented in the right context, it won't resonate.  Eye-catching design is a core competency we can use to get the attention we need to communicate the underlying value of any brand or business. This is often referred to as "thumb-stopping" content, as you need that initial hook to get customers to stop scrolling down their never-ending news feed to justify why you're worth their time.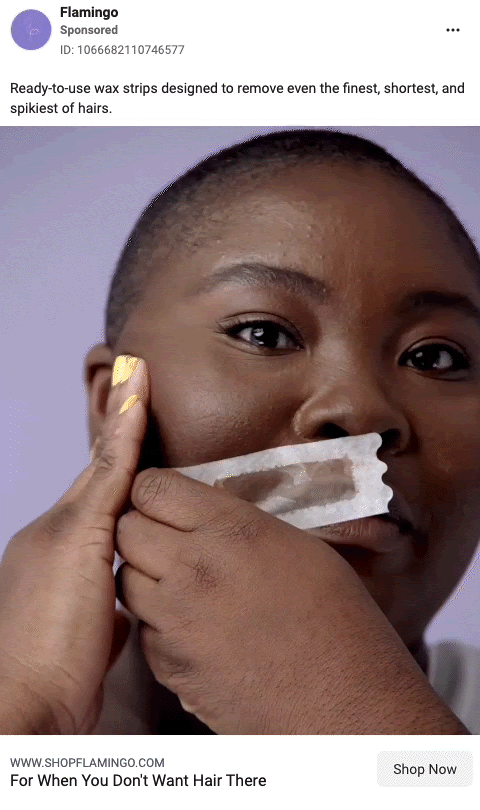 One great example of this is Flamingo ad creative , a gif portraying a woman using the wax strip and her reaction. This is a lot more compelling than simply starting out with an image of the wax strip or packaging.
I know it's weird. Very weird. But it captures the attention of their core demographic, 18-40 Year old females on Facebook & Instagram.  
Think about the underlying value you provide as a business  – what could you do to DRAMATICALLY demonstrate this in your audiences social media feed?
Another way of providing this value to your customers is through User Generated Content. More and more, users are turning away from traditional in-house created advertising in favour of more relatable content. From your website's product reviews to posts from your customers on social media platforms, UGC can take many forms and generate meaningful customer interest even without direct involvement from the brand.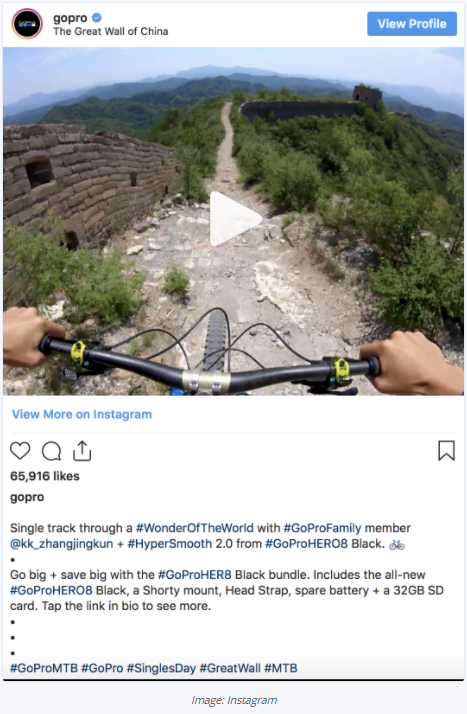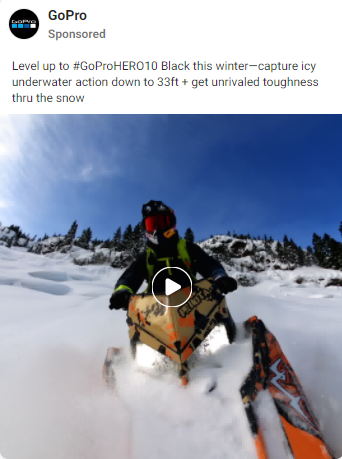 Go-Pro have used this in their strategy very effectively, where they launched a photo-of-the-day competition where they would post the best user-submitted GoPro image each day. Not only does this strategy prompt long-term engagement from users who want their pictures featured on such a large platform, but it also ensures a nearly endless stream of ad content. Even if you aren't GoPro, having content that gives a real example of how a user experiences your product than a highly produced photoshoot can go a long way.
Know when to leverage culture, and when to stay away
Traditionally, brands would build their messaging, positioning and copy internally and convey that to their audience via a one-way channel such as print or television. 
With the rise of social media, brands are now looking to communicate within the cultural landscape of their audience, whether that be news, entertainment or viral social media content itself. Culture is made up of everything we do and in this case, also what we talk about. That could be everything from Brexit, to Love Island, to a popular show on Netflix.
This can be an excellent way to get in on the action, combining your own message with the culturally significant topics of the day to take advantage of that attention. 
Two brands that have done this effectively over the last year are Aldi and Gilette.
| | |
| --- | --- |
| Aldi posted this to their social media channels during the Facebook/Instagram/Whatsapp outage in 2021 | Gillette created this post shortly after the release of the massively popular Netflix release Squid Games in 2021. |
Supermarket chains Aldi and Lidl understand their place in the culture and don't take themselves too seriously – which worked out very well. Gilette also saw an opportunity to leverage the media coverage of Squid Games through their social content to generate engagement.
Video is Key
This is no surprise that video is still an essential part of a successful social advertising strategy for 2022. 
Across our client campaigns, we consistently see short-form, social-based video content performing well, especially in the initial awareness stage.
Why is this:
It's cheaper to reach your audience

You can communicate more information and more easily avoid Facebook's 20% text rule on static content

More engaging early in the funnel where users aren't as familiar with your brand.
Another benefit of using video content is the ability to remarket to those who have watched a certain portion of a particular video. For example, we can create a conversion ad for those who've watched over 25%, 50% or 75%. This can be very effective as the user is much more bought-in with more context than they'd have otherwise. 
As described above, "thumb-stopping" video content that captures a user's attention straight away can be a great starting point. Unlike a traditional video or TV advert where the hook is usually ¾ of the way through to keep people engaged, it's important to grab the user's attention with a hook within the first 3-5 seconds to justify why they should stop scrolling. Make sure to think mobile-first with either square or vertical video.
Target the Right Audience
"This is almost like cheating; like getting the exam paper weeks before the final. Instead of trying to guess what matters, I now know not only what the customer wants – I realize how she goes about it"  – Adele Revella
This is the power of the buyer persona.
When we do an initial audit of a new client's social channels or ads account, the lack of effective and specific targeting is often a problem that we see. 
While it might sound basic, it's so powerful and can be really effective in setting you up for success.
Take some time to sit down and describe your PERFECT customer in great detail. Ask yourself:
What is their age?

Gender?

Relationship Status?

Location?

Hobbies/Interests?

Job Title or Industry?

What problem do they want to solve

What features are important to them?
When these are clear, you can create messaging that speaks directly to their needs and make you appear like a mind-reader .
Hubspot offers a great buyer persona builder to define personas that better speak your customer's language. If you've struggled in this area I'd definitely suggest taking a look!
Phase 2 Engage:
From here, we want to provide something of a higher value that allows us to ask more of our audience in return. This could be traffic to your website or could be an opt-in in some way.
Offer Something of Value
One mistake a lot of brands make is asking too much of your audience too early.  This is a tenet we work by, provide value before asking for something in return. An example of this pitfall could be trying to drive traffic towards your website product page or lead form before you've demonstrated why a potential customer should take the time to do so. 
It's important to appreciate where your customer is in the sales cycle. Providing value first in the form of engaging content or helpful information means that by the time you're moving to the close phase, the audience is familiar with you and engaged, how you could potentially help, likely to buy and ready to act.
Maybe your customers will prefer a free ebook, a discount code, a free trial, a free video course, free consulting, a free webinar, a free product/service, etc. This is something you can test over time to see what lead magnet drives the right type and volume of customers. 
Phase 3: Convert
Now that they know who we are and why they should care, this stage is about converting this engaged audience into a paying customer or qualified lead.
Use Custom Audiences
Next, you can start to retarget users that have visited your website. This involves showing an ad to someone who has already engaged with your content in some capacity (i.e. visited your website, watched a Facebook video, subscribed to your email list, etc.)
Most retargeting can be done through the magic of the Facebook/Instagram Pixel and it's Custom Audience functionality. With the Facebook Pixel installed on your website, you can segment a group of users who visited specific pages, subscribed to an email list, or watched a particular video on your page. 
To create a Facebook Custom Audience, just login to your Ads Manager account at business.facebook.com and hit "Audiences". Custom Audiences can be a very effective use of advertising spend, as users have already shown intent. It helps avoid over-generalised targeting and ad copy that is skipped over by an uninterested and unqualified Facebook or Instagram user. Once these audiences are created, you could experiment with web traffic ads to encourage visitors to opt in, or alternatively, if they've already opted in, you could use call to action messaging to drive users towards a conversion. 
One ad type to highlight for this stage of the funnel would be Instagram Stories ads in my opinion. There is still very little targeting being done in Ireland as compared to other placements such as Facebook and Instagram news feed. This means less competition, cheaper results and better results in an extremely engaging format.
Call to Action Copy 
This is where you build consideration of your product or services in the eyes of your target market. Not only are you driving highly targeted website traffic at this point, but you're also serving the goal of driving sales.
Types of messages:
Discounts – Discounts work well to convert customers because they not only create a pricing incentive but also minimize the risk associated with buying something from a new or relatively unknown brand.

Time Sensitive Offer

Highlight Differentiation compared to competitors

Highlight Results or Testimonials

Thought Reversal – One effective technique is to question and break the assumptions that would cause a user to skip past your ad in the first place. Challenging assumptions and offering clear messaging as to why you're positioned to solve that problem could be an interesting way to engage an otherwise disinterested audience.
Optimisation & Split Testing
It's very rare that an ad converts on day one.
While daily results may fluctuate – keep an eye on 7/10/30 Day trends to ensure your ads are optimised and are improving over time. Keep track of key metrics that highlight their effectiveness such as Cost Per Click (CPC), Cost Per Lead or Cost per Purchase (CPA). Monitor spending to ensure you don't either overspend or to re-allocate spend on ads that aren't driving results.
With daily monitoring of ads, you'll discover opportunities for improvement to maximise your results. In addition to daily text changes, make sure to keep the 7 levers in mind you have at your disposal: 
Goal Setting

Targeting

Ad Sets 

Ad Types

Creative

Copy 

Landing Page

Thank You Page

Optimisation 
Small improvements across each of these areas will lead to significant improvements over time.
Just make sure to test only ONE variable at a time so you can clearly decide what variation factored most!
Use a Catalog
Have you ever been on a site and viewed a product, or even added it to your cart but decided not to buy, and then those exact items pop up on Facebook or Instagram? That doesn't happen by accident! Those are dynamic ads which use a Catalog (a collection of your site products which is connected to your Facebook Pixel). Dynamic ads automatically promote your inventory to people who have expressed interest in your website (meaning they usually work very well for converting those people). Dynamic ads look exactly like other single image ads, carousel ads or collection ads on Facebook, Instagram and Audience Network. Setting up Catalogs can be easy if you have one of these select e-commerce platforms that have plugins:
Shopify

WooCommerce

BigCommerce

Magento

OpenCart
If you do not have one of these e-commerce tools you can create a Catalog manually, it just will take a bit more time!
Email Sequence
Email marketing certainly isn't a new channel or technique but still for many audiences is a great way to drive towards a conversion. 
With the understanding that you can't always rely on any one social media channel to continue to keep you front of mind for a particular user, email is still a great way to break away from the noise and continue to reach your audience in a more personal manner. 
Use a defined email sequence following an opt-in such as a lead magnet over the course of a number of days.  For example, 2 days after your lead magnet, try to send another email with even more value. At this point the user is becoming a warmer lead, trust is building and should ideally be seeing the value and expertise in the free content you've provided them. Over the course of a number of emails, introducing time sensitivity and a sense of urgency to drive towards your call to action can help make sure the content isn't just left to hit in the inbox. You can also use Custom Audiences to remarket to members of your list so they'll also see you in their social feeds at the same time. 
Phase 4: Deliver
Relationships aren't transactional, and continuing to serve the needs of this customer going forward will not only keep them around longer but will be your best marketing tool by telling others how great you are. This could be in the form of upsells, email follow-ups or a referral scheme.
Upsells  
One of the most common lessons we know is that it's often cheaper to sell more to a current customer than to acquire a new customer. Online, they're as much as twice as likely to convert.  Digital marketing funnels often don't take current customers into account, but this leaves a massive opportunity to better serve an audience who already "get you".
This can be done in a number of ways:
Segmentation

– You know a lot about this customer, so take advantage of it. Be personal with messaging and offerings that they will actually care about, based upon their demographics and past behaviours. 

Be Natural

– Time incentives and direct calls to action are often less effective here. Your customer shouldn't feel overwhelmed by new marketing materials. It's the reason why promotional emails often go unseen. Try to include upsells in content that you're already delivering, whether that be social media content or one to one communication.

Engage them

– Now that a customer is both literally and metaphorically "bought-in" to your brand, you have an opportunity to ask more of them than they'd be willing to oblige beforehand. Ask questions, question their experience and figure out what their takeaways were in engaging you as a brand. This is invaluable information for you to grow & improve moving forward.
Referrals 
Most people consider referrals as an uncontrollable event, it may happen, and if it does, we'll take advantage. Often in reality, Referral marketing doesn't always happen on its own. Your business could benefit from a defined referral strategy, as deliberate as any other form of marketing.
Network Effects
One of the most natural forms of referrals can be seen in products and services that have Network Effects. It happens when the act of spreading the word itself improves the experience for a customer. 
In the book "Blitzscaling", Reid Hoffman, founder of Linkedin, highlights how Network effects played a part in the growth of Linkedin as a platform. The more people you knew on Linkedin, the more valuable the platform becomes, with more opportunities to find new hires or business relationships. As part of the signup process, an early version of Linkedin encouraged users to add LinkedIn to their email signature, clear alignment for their business-focused user base. 
Make sharing a part of the user experience
Another effective referral strategy is to make the act of sharing a core piece of the user's experience in engaging with your product or service, as Linkedin did above. For example, if your product or service helps a user improve their health & fitness, give them an easy way to share their progress on Instagram! They'll get some positive encouragement from friends and family, who are all now aware of your brand and the positive emotions you elicit.
Referral Programme
Lastly, a referral programme for your avid users or customers can also be utilised. When you consider the CPA via traditional channels, could you use this spend to reward a current customer for referring a friend? It'll often be a more qualified lead having been referred by a trusted source, who themselves are now more invested in your brand too! Creating an ad targeted toward your customer list along with an email marketing campaign can be simple way to get this programme off the ground. 
Any questions? Feel free to email me directly and I'd be happy to help. If you'd like to learn more about our social media marketing services, you can take a look here!