With an infinite number of ways to communicate with audiences, race event marketing has become a daunting task for marketers to take on. Race Days must break through the ever-growing number of competitors to reach and resonate with target audiences. In a fast-paced industry with a multitude of stakeholders to satisfy, digital marketing tactics may fall to the wayside, with some race events not being provided with a marketing budget to effectively generate entries. In this article we will provide you with the tools required to redefine your Marketing Strategy for your race event, enabling you to generate measurable results from your Digital Marketing activities, all the while maximising your time efficiently.
Before you begin a new campaign, it is essential to develop a strategy aligned with the objectives of your race event.
Strategize
Define Your Objectives & Work Backwards
Clearly labelling the overarching objectives of the race is vital in establishing a successful strategy. Many people, eager to make an impact with social media, tend to jump into a campaign without having fully determined what they hope their efforts will achieve. Without a goal, you can't score. Although we cannot speak for every race event, most will determine sign-ups/entries as their primary objective, with returning attendees and sponsorship satisfaction as secondary parameters for success
Audit Your Audience
The first place to begin your audit is with your target audience, namely your Audience Personas. While this is often considered a basic approach, a truly detailed audience persona will determine how you provide value to your race audience when designing your content and messaging. If it's been a while since you built a persona, check out our previous article here for advice on how to get started. As well as this, there are several digital tools you can also use to identify who is engaging with your content, and more importantly who is signing up to your race.
Developing Actionable Audience Insights
Facebook Audience Insights is a top of the funnel marketing tool that provides an overview of your audiences and their interaction with your content on Facebook, with options for narrowing your view to specific demographics, even down to their level of education.
It can help you validate your existing knowledge about your audiences, and aids in making your targeting more effective. Discovering what your potential entrants are interested in is one of the most crucial parts of Facebook advertising. Utilising this search tool will aid in determining the estimated size of your desired audience, generate insights from those already connected to your page or use the "Custom Audience" feature to upload your email list and generate insights you can use to target ads to the same group.
Metrics on location can also inform your ad-building by targeting the geographical area around your event's location. With Facebook Audience Insights you can understand and target unknown audiences at the top of your funnel in a general way, while Facebook Ads Manager, which we will discuss later on in this article, provides a bottom of the funnel approach, enabling the final conversion into a sign up for your event.
Audit of Your Previous Efforts
Identifying previous campaign performance, whether positive or negative, is vital in determining a baseline for your next campaign. Failure in auditing your previous strategy can result in a promotional vehicle that breaks down before you reach your targeted entry numbers. A marketing audit is the solution that will help you catch any significant issues with your plan before they get out of hand, as well as highlighting successful components to double down on.
The best kinds of marketing audits are holistic, comprehensive and truthful. While there's no one-size-fits-all answer, your audit should be:
Comprehensive

: They need to cover every element of your strategy, including your social media campaigns, email, content marketing, podcasts, sponsorship activities offline media and more.

Independent:

Though it is possible to conduct your marketing audit, the best results generally come from external companies as they can give you an independent overview of your current strategies. 

External auditors offer a new perspective and a fresh set of eyes for your event.

Periodical:

Marketing audits don't take place just once. Like any important test, you'll need to audit regularly to check for any problems that emerge over time.
While conducting your audit, it is important to give equal importance to the period after the event. Many make the mistake in ramping down social activities once the race is over, only to continue when the campaign resumes a year later. This period is essential in keeping your core audience engaged with your brand, creating nostalgia around the event through content which showcases past events.
Based on our experience working with Race events, several other key areas to audit are:
Visual Consistency: Is your race utilising it's brand to the best of its ability? Your event's identity is comprised of the visual images that people readily associate with your business. While not every piece of content needs to feature every aspect of the below, they should appear regularly enough and consistently so that no matter the message or content, your audience immediately recognizes your brand and it's associated personality, explained in detail below.
Logo: Most race events have a catchy/clever name, but it is a visual representation of your name that is going to catch the eyes of your target audience. Assess your brand. Visual language speaks a lot about your event so the colours, motifs and styles you adopt will inform your audience about your race's offerings, beliefs, values, and goals should mirror your target audiences as your event is a reflection of your target audiences personality.
Colour Palette: Do the colours you have chosen to represent your event make an appearance across your varying digital, traditional and other PR activities? When it comes to race events, the colour is one of the first things associated with the event. If you are unsure of how to begin identifying your primary colours, study the T-Shirts you give/sell to attendees of your event. Your colour palette may be more defined than you thought!
For more information on the psychology behind why brands choose colours, and what your feelings your brand colour may subconsciously evoke in your target audience, check out this article from Hubspot.
Typography: Create a brand identity guide for your event so that the fonts, font sizes, font colours, kerning, and white space are consistent throughout the application of your visual identity. Be specific to vendors. This is your brand we're talking about!
Photography Style: As your content will be predominantly visual, photography requirements will be vital. While most events will have a professional photographer hired to worry about the technical aspects of taking the shots, It's important to know how you want your final output to look. if not, the images captured won't necessarily convey the message you want to get across to potential entrants.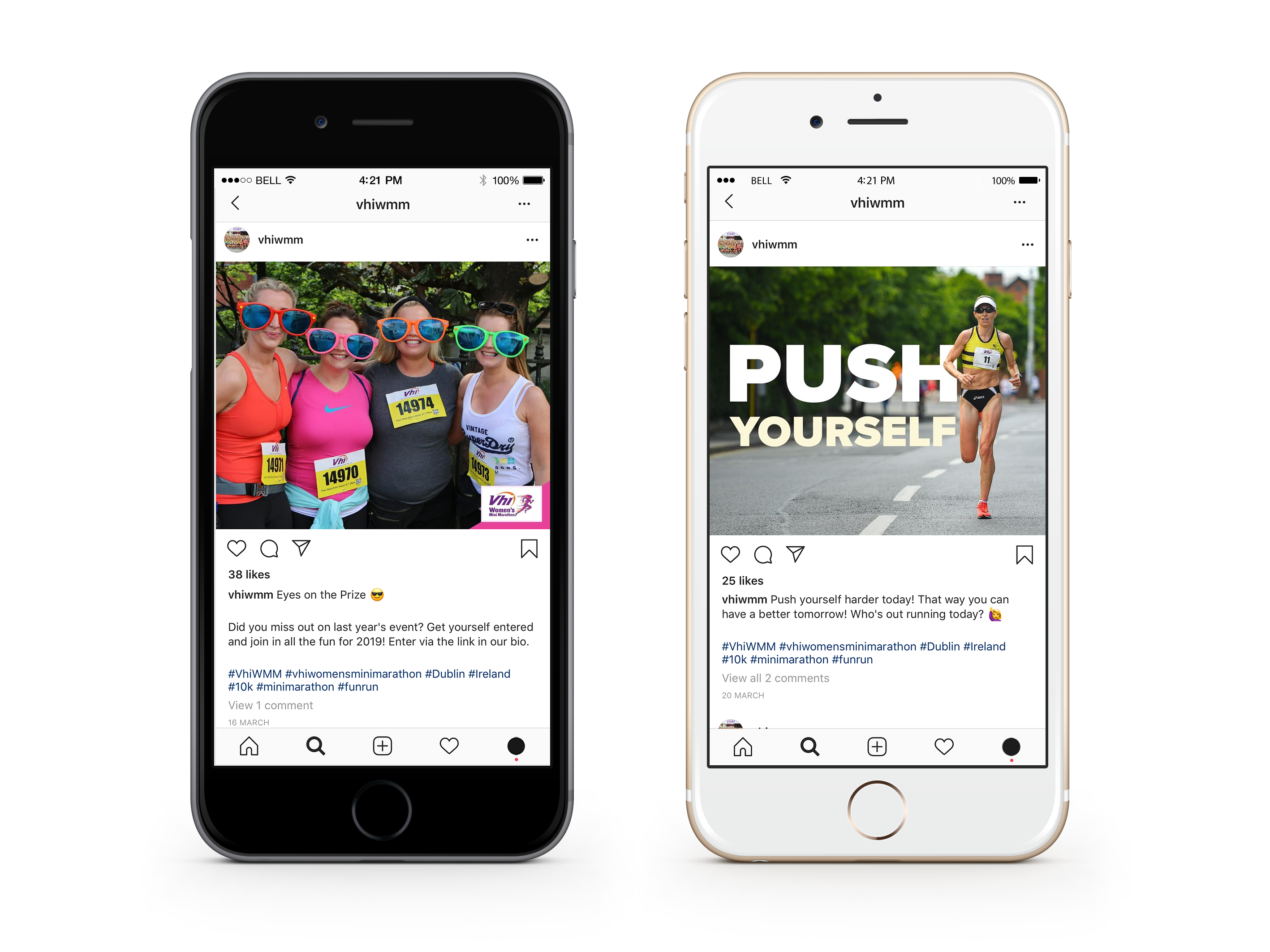 Example of photography for the Vhi Women's Mini Marathon. Note the image on the right has added creative text to expand on the message while increasing engagement.
Lack of a story/unique voice
Just over half (52%) of consumers say they're likely to switch brands if a company doesn't make an effort to personalise its communications. Customers do not connect with advertising generally; they connect with personalities. As your event involves a high level of experiential marketing tactics, the presence of a unique messaging will appeal to your event's target audience. Other than understanding their needs you must understand how they prefer being spoken to, as well as the language that appeals to them
Although consistency is key, a brand voice is not static; it evolves and changes with the times and what your audience aligns their values with at the time. If you find that your formerly successful brand voice is no longer connecting with your audience, don't be afraid to revisit and make changes to it.
Creative Content
If you have to make a choice between value or volume with your content, which would you prefer? Essentially, creative content requires providing your audience with the type of content they crave, something they haven't seen before. Focus on brand leadership, storytelling and customer engagement and event will be the race event to event
Breaking through the ocean of content on social media is challenging. If you can capture people's attention through truly creative work, and start engaging with them in a meaningful fashion, you will appeal to them on an emotional level. 
Put Your Strategy into Action
Through working with race events we've developed a unique approach to using digital tools to generate results for other Race Events. For more information on our work, check out our case study from the Vhi Women's Mini Marathon here.
In essence, your content should:
Attract: Engage your audience with insightful content that provides value before asking them to sign up to your event. By engaging with your content you have already begun the sign-up process. Show them you provide them with value, incentivising sign ups! Content examples include:
Throwback imagery from previous year's events with powerful copy, evoking emotional responses from your target audience.

Creative brand engagement content discussed previously
Engage: This involves increasing the likelihood of registrations before asking for them through the use of lead magnets or higher value content. This can be in the form of meal hacks, training plans or premium influencer content. All accessible via your website (where the signup buttons are!)
Convert: After the leg work is done, it is to convert your engaged audience into an attendee through the sales component of your pitch. Otherwise known as your hard-sell messaging. When it comes to Social media content, conversion ads, discussed further below, will be your ally here.
Deliver: From here, it is important to understand the effectiveness of providing additional value to those who have previously demonstrated their ability to register for your race (previous year's participants, current signee's etc). It is considerably easier (and cheaper) to establish a relationship with previous attendees who have the context of your race event, as opposed to targeting new audiences. Added value can be in the form of continued content focused on driving referrals eg. "Tag your squad for this year's marathon below".
Utilising the above method when formulating your approach will ensure you bring your target audience through your funnel to potential signups, entrants and, if successful, a promoter of your race on the day!
Our digital strategy for the Women's Mini Marathon has focused on every stage of the process above. As Mini Marathon is an event that aims to drive charity fundraising, a large portion of the participants are not professional or even semi-professional athletes, but regular people who want to make a difference in their lives.
A training and nutritional advice section, packed with tips & how to's to prepare the runners and walkers for the big day, is available on their website as a part of the added value component of the strategy. Information available includes; training advice & tips, Nutrition advice and blog focusing on specific individuals partaking in the event.
Instagram Stories
500million people use Instagram Stories every day. If your event isn't capitalising on this platform, now is the time to start!
By linking your Instagram business page to your Facebook Ads Manager you can enable strategic targeting for your event with highly measurable results. Combining this with Facebook Creative Hub, you can create and manage highly effective Stories Ads which translate into clicks, engagements and sign-ups for your race! Your Instagram content should include some of the following:
Training Tips

Diet & Nutrition

Varied styles in countdown or other posts that build excitement

Motivational Content

Clear messaging which is clear and on brand.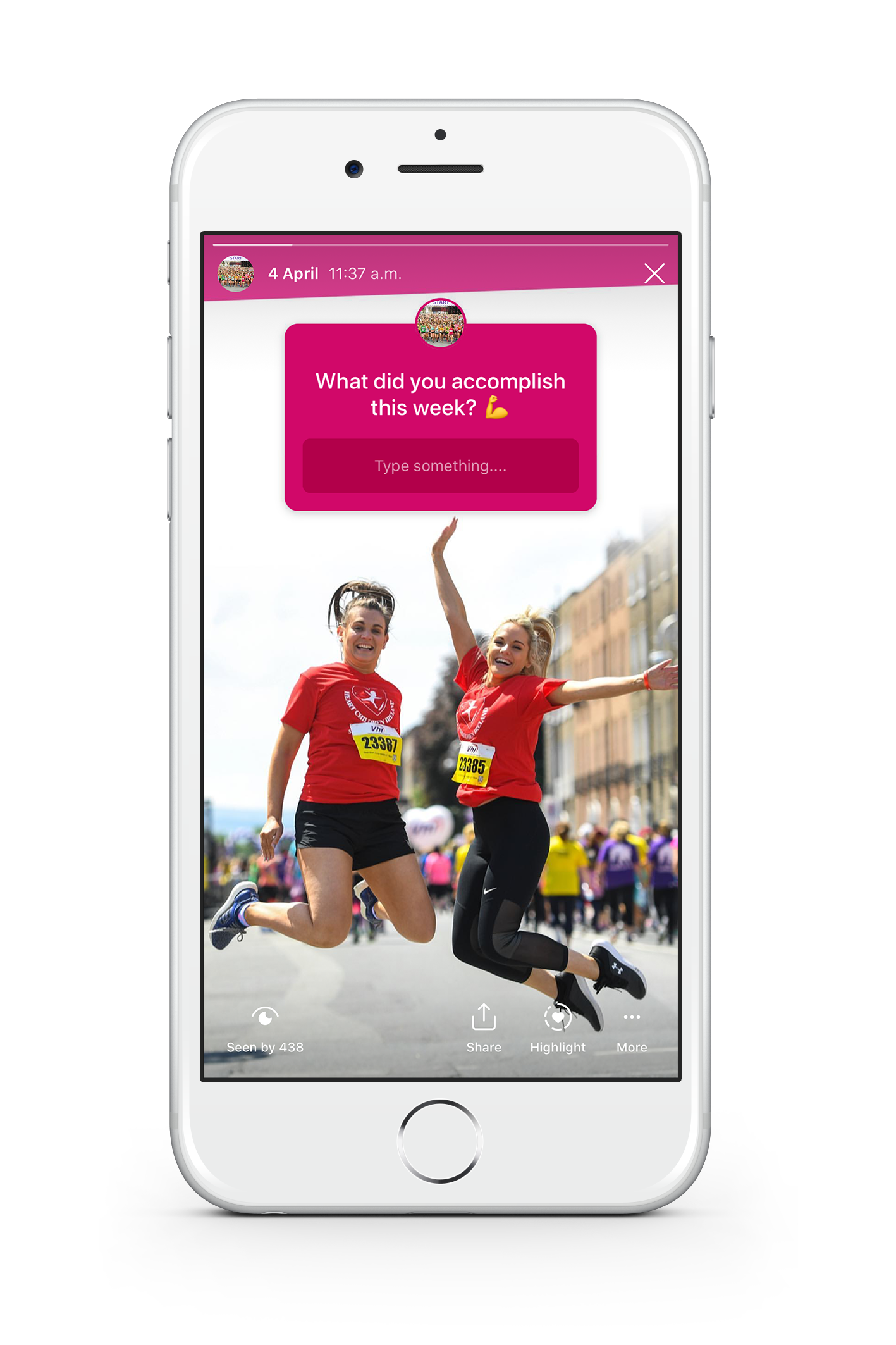 An example of an Instagram Stories ad from The Women's Mini Marathon which is both Motivation and engagement orientated, utilising the stickers features within the app.
Ensure your Stories Feel Natural
Due to the high curation of the main feed by influencers and brands, a lot of messaging has become unauthentic to users. Instagram Stories bridge that gap, using Stories to connect deeper with those already following you. Making it easier for marketers to engage with users, humanize their brands and generate registrations,
Empower your Influencers
Allow your influencers access to your Instagram account leading up to the event so they can introduce themselves to the potential audience. This will also give your attending audience insight/background information about the influencers while generating buzz about them, the event resultantly attracting more last second attendees. By providing a platform for the influencer to push some of their own content, you'll also be able to leverage the influencer's own audience and marketing power, to drive impressions and sign-ups for your race.
Increase Audience Engagement
Aside from employing the polls, questionnaires and sticker tools to encourage engagement on Stories, asking your audience for inspiring content, utilising your event-specific hashtag/handle, is a sure-fire method of increasing engagement on the platform. This will garner interaction with attendees but also be free advertising to everyone considering signing up. This offers an extremely interactive experience for your audience while increasing your event's trustability through attendee referrals.=
If you're looking for more successful Instagram Stories strategies, as well as tips on how to successfully use the platform, check out our latest article here.
Facebook Ads
Organic Traffic on Facebook is dead.
Well almost. The primary reason for focusing on a Paid Ads strategy for on Facebook is because organic activity on your business page won't yield results.
On the bright side, Facebook ads tend to cost a fraction of what other marketing channels, especially traditional platforms such as radio and TV advertising. Facebook advertising is also highly targeted with the use of Facebook Custom Audience tools, which you can build from your Audience Audit, mentioned previously. Here are a few of the key Facebook Ad objectives to be focusing on when generating registrations for your race.
Post Engagement Ads
This is primarily focused on generating awareness for your race and ensuring your messages and content is shown to your intended audience. Utilise this Ad objective with your Creative and video content that is designed to generate likes, comments and a "buzz" on your social page.
Remarketing Ads
According to Eventbrite, people are 80% more likely to sign up to an event through retargeting than normal campaign efforts. Not only this but when someone clicks on your retargeting ad, they're much more likely to convert. People who visit your website are assessing your event and may need an additional push to cross the line. Incorporating Facebook Retargeting Ads will ensure no one slips through the cracks when building attendees.
Conversion Ads
Within the same family as remarketing ads, Conversion Ads is the digital equivalent of a direct sell to your audience, asking them to sign up and directing to your registration page. As sign-ups are an easily tracked KPI through Facebook, Conversion Ads are a necessity for any race event looking to maximise their reach
Lookalike audiences can also be built with conversion pixels from your paid search ads, your email marketing list, or simply from fans of your Facebook page. You can also further define the size and targeting options to ensure your lookalike audience is an accurate reflection of your target audience
Email Marketing
While most marketers engage in email marketing campaigns, many are unsuccessful at extracting any real value, or better yet – registrations, from the medium.
Email marketing is a particularly intimate type of communication with your audience that you don't want to abuse. It is good for keeping people up-to-date with important announcements, such as registration, but should be used sparingly otherwise.
If you are not already building a mailing list, make sure you have a subscription form set up on your website, so people interested in your race can subscribe to your email updates. If you are using email already, consider investing in getting more out of it through:
Personalisation.

Personal touches can dramatically improve your email's open and click rates.

Segmentation.

In some cases, it makes sense to segment your main mailing list into groups and email those separately with a message that resonates most with them.

Integration

with other channels. You no longer have to rely only on email to communicate with your mailing list. Facebook custom audiences and other tools can help you also target those same people on Facebook and other channels.
 Influencers
Otherwise known as the missing 'human' piece that promises huge potential for race events. In a relatively short period of time, influencer marketing has emerged as a significant part of the digital marketing mix. While it's certainly not devoid of issues and risks, influencers that already speak to your target audience can be a fast way to drive brand awareness and entries. This can range from mass market Youtube and Instagram personalities to micro-influencers that speak to a smaller, more specific community. Align your brand with influencers that already demonstrate the core values of your content/messaging. If you decide to work with influencers, ask yourself these questions:
Does this influencer appeal to my target audience?

Is his or her personality complementary to my brand's?

Will he or she ensure the appropriate use of my brand in their content?
According to research published by Influencer Intelligence and Econsultancy, 82% of companies (Not just race events) are unable to integrate influencer marketing into their broader ROI calculations yet despite this, the vast majority believe it is a critical channel for success, highlighting a significant gap in which your race can capitalise!
"Influencers drive the power of word-of-mouth at scale. I would recommend working with several micro-influencers to create the best possible reach and impact. That doesn't mean you have to pay them. In fact, providing micro-influencers with experiences such as VIP passes or exclusive parties is a great way to generate earned media that will maximise the impact of your message."
– Georgina Rutherford, Marketing Director, Apenkooi Events
 Website Best Practices
Your Website has one goal: generate sign-ups to your event. Below we've highlighted several basic website design practices to ensure your website is fulfilling its goal.
Menu Navigation
For your website to work, it must facilitate the quick conversion of a visitor into a lead, an applicant. The prospects of converting a visitor go up significantly when they land on a website that is "conversion ready". A conversion point is reached via the call-to-action button.
A Clear Call-To-Action (CTA)
A Call to Action is essential in converting those immediate visitors to your website. It is a clear direction that entices the visitor to make a specific action, Use calls-to-action (CTAs) on your website pages to attract new registrations.
Keep It Above The Fold
This refers to the idea that all of the important information you wish to convey to your audience should live inside the browser window without having to scroll. Once your website doesn't:
Overload with information:

You have your speakers, you have your registration form, you have your "About the event" section, maybe you're even trying to include a map — all in one screen

Have "The Infinite Scroll":

As you keep scrolling down the page, you see a long event page with seemingly never-ending information like the schedule, speakers, location, etc.

Be Mobile First: 59% of attendees register for events on their mobile device. Meaning that mobile is their only experience with your website. Not only this, but a mobile responsive website has a higher SEO ranking thanks to Google's algorithms.
The London Marathon website incorporates all of these best practices quite well as the website effectively targets numerous audience profiles with the provided information, offering valuable resources to both runners and those simply interested in the event, as well as a library of resources for news and media publications.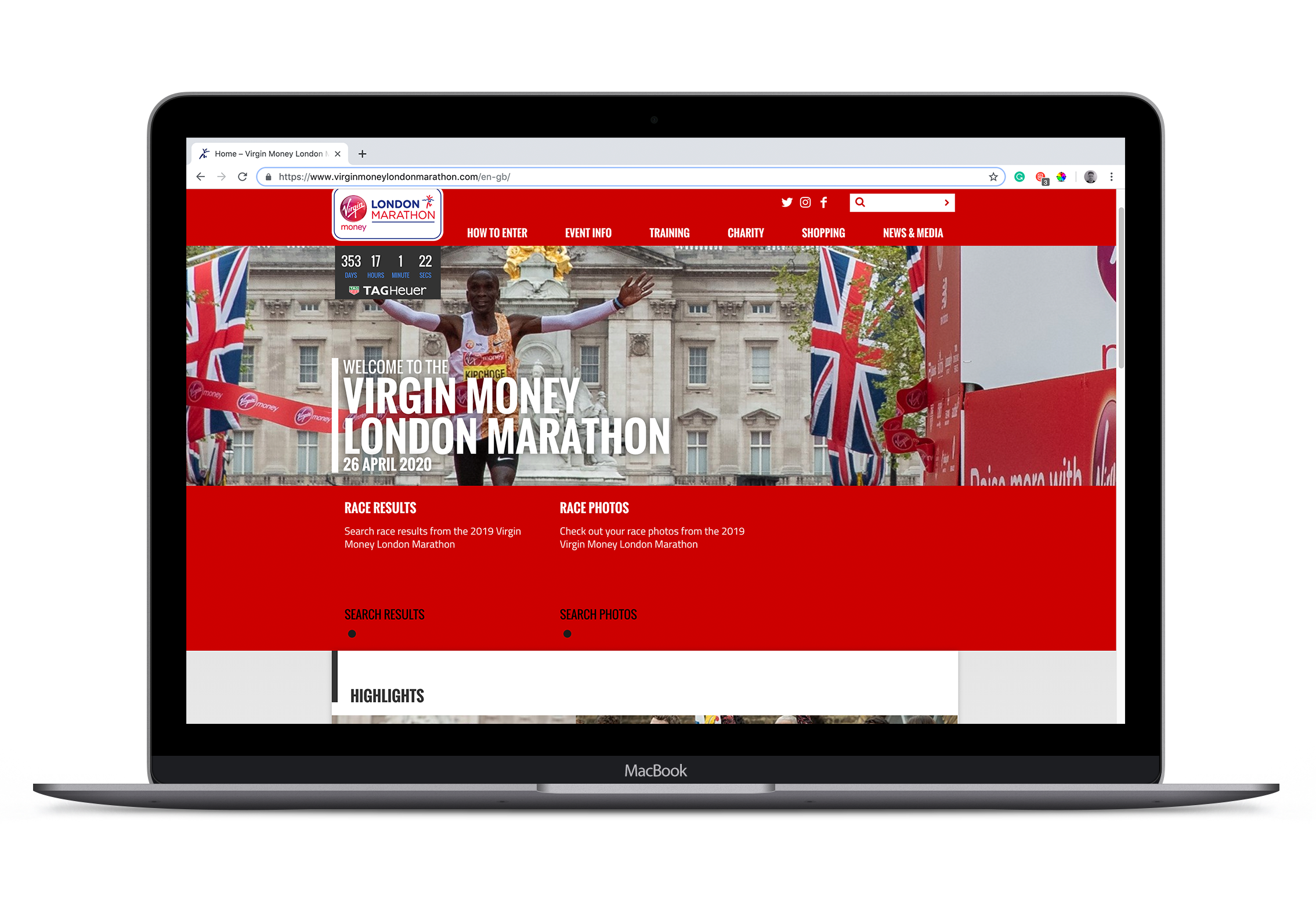 The London Marathon website
If you feel your website isn't generating enough sign up's check out our website conversion tactics article here, then download our free guide to kickstarting your social media below!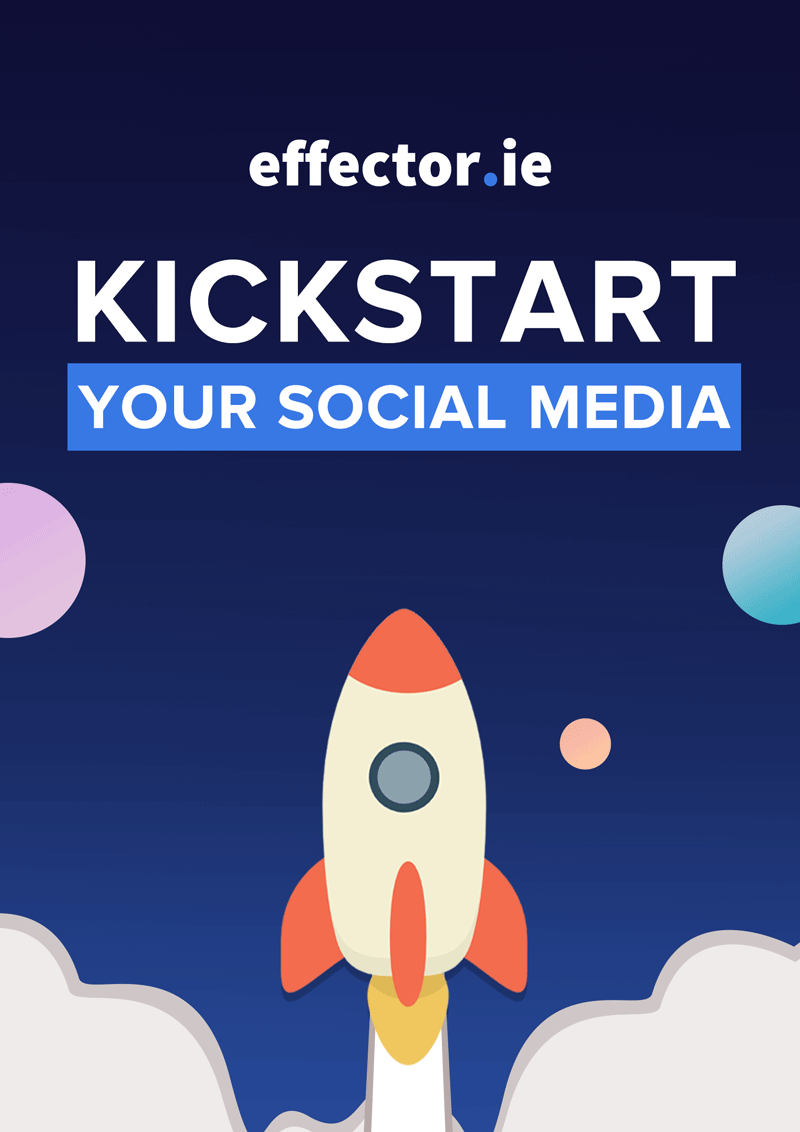 The Effector Guide to Kickstart Your Social Media
Struggling to get started with a consistent and effective strategy online? Use this guide to develop an understanding of how to make social media and other digital tools work for you and your business.
GET THE FREE GUIDE
Reporting
Define your Key Metrics
Returning back to the beginning of this article, in order to define what your metrics for success are you must first articulate what the goals of your event are.  Placing goal-setting as your first step forces you to be top-down, which is critical for developing metrics. Are the goals of your race event:
Smart – Measurable – Actionable – Relevant – Time-bound
Digital KPIs to Watch
While this list doesn't include every KPI to track, they are certainly most relevant to your digital marketing strategy.
Registrations from Digital Ads
The total number of registrations through online advertising efforts is one of the most immediate ways to measure the success of your social media efforts.
The more detailed you can become with this metric, the more clarity it will provide when evaluating your event and more importantly, previous years data offers a guide into forecasting future demand, as well as areas to improve upon.
Cost per Conversion
Following on from the above, Conversion Ads is one of the most expensive forms of Facebook Advertising. Place a value on how much a Signup is worth to your event, and try to match (or beat) that Cost-per-Acquisition in your Conversion Ads. Monitoring this regularly, at least 3 times a week, will ensure your ads are effectively spending your budget.
Social Media Engagement
The members of your audience who took the time to stop, read, like or comment on your social posts are those most loyal to your event. Tracking the level of engagement across your social platforms can tell you if, and to who, your message is being received by, and is your message being responded to.
Social Listening – Attendee Satisfaction
The most immediate way you will know if attendees enjoyed the event is by asking them. Survey responses through Instagram Stories are helpful in understanding attendee satisfaction and ensuring that future events exceed their expectations. Also tracking mentions of your race will help you better understand the social media friendliness of your event as well as the social media savviness of your attendees.
Conclusion
By setting goals, you're making it easier for you and your team to prioritize tasks prior to the event. Creating quantitative goals also makes it easier for everyone to monitor event performance throughout every stage of the process. Remember that your race event marketing strategy is interconnected. Producing good content increases the likelihood that your audience will engage with it, register and participate, and create their own content with which you can improve your word of mouth marketing. Having a strong marketing strategy makes your marketing, and event as a whole, work easier in the long run.
For more information on our work with the Vhi Women's Mini Marathon check out our case study over on our website!
Click here to learn more about how we can help you use digital tools to drive business results, and feel free to reach out if you have any questions!