Well, folks, it's happening. Facebook is shaking things up in a big way. As the biggest social media platform in the world, the changes brought about by Facebook's feed updates will affect millions of users – and a large proportion of them are businesses. If you use Facebook as part of your digital marketing strategy – and in almost every instance you should – here's what you need to know about Facebook's recent announcements.
2018 is the year Mark Zuckerberg and the team at Facebook have designated as the time to take Facebook back for the people. In his statement of the 12th of January Zuckerberg said that feedback showed that posts from businesses and brands are 'crowding out the personal moment that lead us to connect more with each other'. He feels that it's time to return to – and prioritise, Facebook's original role of connecting friends and family.
When we think of all the nonsense that clogs up our newsfeed on a daily basis, it's not surprising that they have made this move. Not only are people feeling bombarded with their news feeds, but Facebook themselves have been in the news quite a bit in recent years and they have to do something significant to deal with the issues they face around fake news, etc.
What about Business?
What does that mean for public content producers, that is the businesses and brands who have spent a lot of ad revenue on Facebook over the years? Are we to be pushed out completely? The short answer is no. But the long answer is worth exploring.
According to Facebook, the focus this year, and presumably going forward is on worthwhile meaningful connections, so that time spent on 'Facebook is time well spent'. We've all seen 'like-baiting' that, without substance, urges users to share, tag or comment, without really providing value to users. To ensure that the connections on Facebook are meaningful, in these new Facebook updates, the algorithm is to be changed to give higher priority to posts that generate genuine engagement from the user which are usually posts from family and friends.
While Zuckerberg has said that it will take months for these Facebook updates to be seen across all products, they are starting to prioritise content from trusted sources this week in an attempt to reduce the prevalence of 'fake news' stories across the platform. They expect the overall amount of news stories on the newsfeed to be reduced from 5% down to 4% and that 4% will be concentrated upon more trustworthy sources.
Content Types
Facebook is aware that good quality content from a range of different sources makes up a lot of what is shared on Facebook. However, it is the conversations that spring up around this content that will help it to rank going forward. Zuckerberg noted that, increasingly, sharing of 3rd party material is a passive experience, the kind of thing that doesn't make people feel good or connected and he wants to move into a space where user experience is more active on the whole.
As live video currently enjoys more engagement than pre-recorded video, it will see a higher reach than other types of content. With the majority of users within a certain demographic having migrated to Instagram to share photos in recent years, fewer people now share the type of images they traditionally might on Facebook. However, again engagement will be the deciding factor on how well images will rank – if people are moved to actively discuss it, then it should get seen.
What You Need to Do
Don't panic! These Facebook updates will be implemented slowly over the coming months. Take time to assess how your Facebook reach is right now and monitor it as you move forward, if you notice a drop then it's time to tweak your approach. There should be no need for drastic overhauls if you have been aiming to provide value all along.
Provide Value
As we have been advising our clients from day one, producing content for your audience is all about giving them value in the here and now. It's not about saying we'll give you x or y if and when you spend with us. That is the hard sell that Facebook now want to avoid – and we understand, seeing that type of content in your newsfeed is a pain! We don't want to be sold to while we're trying to connect with friends and family. So, if you have been creating content that pushes your products and services first and only offers value as an afterthought, it's time to rethink how you use Facebook in your business.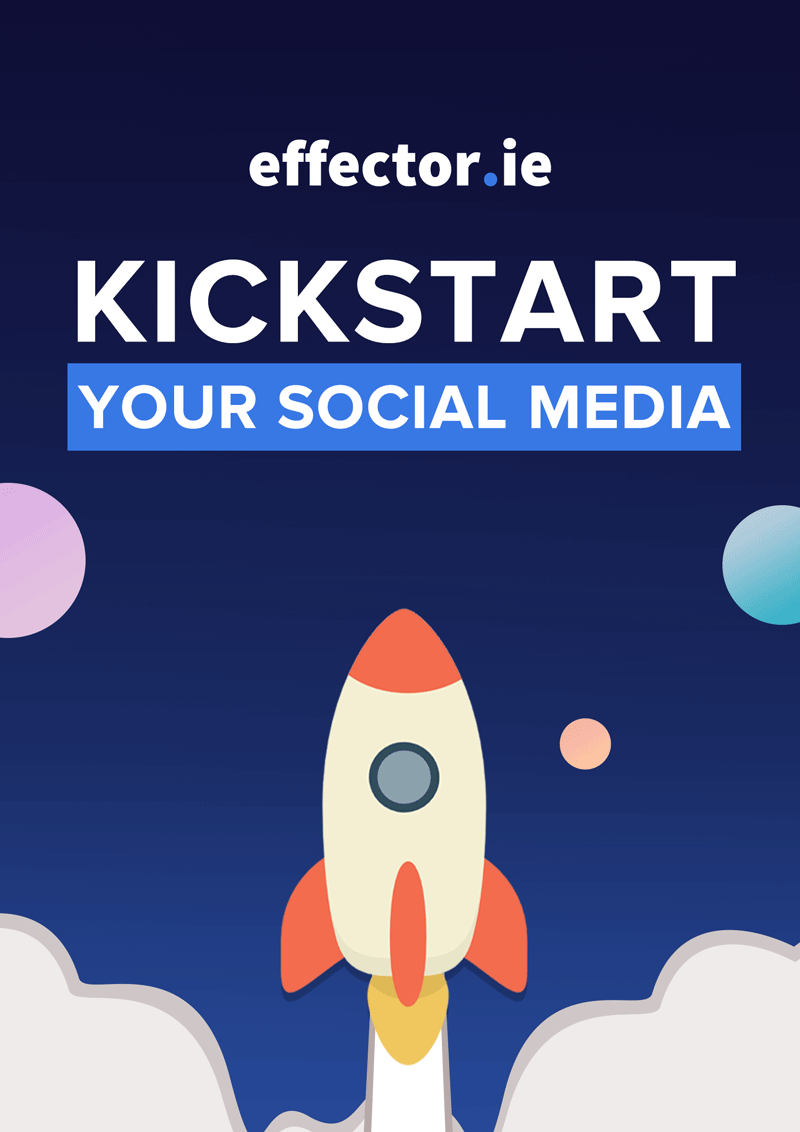 The Effector Guide to Kickstart Your Social Media
Struggling to get started with a consistent and effective strategy online? Use this guide to develop an understanding of how to make social media and other digital tools work for you and your business.
GET THE FREE GUIDE
Get Active
This is more important now than ever with these new Facebook updates coming down the tracks. If they want to see engagement between users, then you must get out there and engage with your audience. If someone leaves a comment, take the time to respond in an interesting, thoughtful way. Don't just type in 'Thanks' for a positive comment. How can you turn that 1 comment into a worthwhile discussion? Again, you're not going to push your products or services but focus on the person with whom you're engaging then and there.
Use Groups
Facebook groups are a great way to meet potential customers and engage with them. In a group, you can share a common interest, spark discussions and build trust with the type of people who may just be willing to part with their cash for your business offering. Again, here you are using the platform to build connections instead of to sell your services.
Dedicate Spend towards Targeted Advertising
This may seem like an overly fundamental point, but it needs to be said. Facebook has a very elaborate advertising structure on the platform. You can pinpoint exactly the type of people you want to reach with your ads, which gives a greater ROI. Now that Facebook is focussing on connecting people and less on promoting business and brand content, you are going to have to ensure that you allocate a portion of your advertising spend to Facebook ads. This is the one time you should actually sound like you're advertising on the platform. At this stage, advertising will not be affected by these Facebook updates, so your paid ads won't suffer.
Don't Try to Manipulate Engagement
Any attempt to increase the number of comments on your posts in a non-organic way will be frowned upon by Facebook. The traditional call to action is not something we do when we're posting for fun amongst our inner circle and will be a giveaway that a post is promotional in nature. Instead, think about what you can include within your content that will elicit a response from readers organically.
At Effector, we don't necessarily see these Facebook updates as a bad thing for our clients. It all depends upon how exactly they are implemented, but if Facebook makes the platform a more enjoyable place for all, that must be a good thing in the end. We, as marketers, simply need to return to the fundamentals of adding value first and work with these changes to optimise upon them.
To learn more about how we use digital tools to drive business results, check out https://effector.ie