Welcome to Effector's blog series on kick-starting your Digital Marketing. Read on for our top 5 steps to get your digital marketing off on the right foot.
1. Set SMART Business Goals
Many people, eager to make an impact with digital marketing, tend to jump into a campaign without having fully determined what they hope their efforts will achieve. Like anything in life, without goals to guide us and to measure our success against digital marketing campaigns that do not have clear goals outlined from the start will lead to a haphazard approach.
Goals vary from business to business, a charity may simply wish to improve awareness, while service-based businesses will perhaps desire increased engagement with their brand, and a company launching a new or improved product will desire positive reviews and perhaps purchases from the e-commerce, or shop section of your website.
The goals you set yourself should follow the 'SMART' structure. The more focussed they are from the start, the more successful you can expect your campaign to be.
Specific – Your goals should be clearly defined so that everyone on the team knows what the aim is.
Measurable – Ensure that your goals are measurable and decide on how they will be measured. This lets you know when you have reached them.
Achievable – While reaching for the stars may be a nice way to strive in the long term, for now, you need to be sure that the goals you set really can be achieved. Setting unattainable goals puts your team under unnecessary stress and damages morale. Goals should be challenging but not impossible.
Relevant – Take some time to align your marketing goals with those of your business on the whole. Your goals should have a clear rationale which works in tandem with your sales and marketing plan.
Time-sensitive – Put a time frame around what you want to achieve. Not only should your goals be achievable but this should be possible within a reasonable period as defined by your business requirements.
2. Define Your Audience
Build out detailed audience personas before starting a campaign.
If you don't know your target market and the key players within it intimately, you're going to find it difficult to give them value. Create profiles including their background, job roles, goals, and challenges so that you can create tailored content that resonates with them.
Tip: To help you make informed decisions about this, take a look at who is already engaging on social media, or visiting your website. Analytics can provide great insights in this regard, so use the tools that are out there.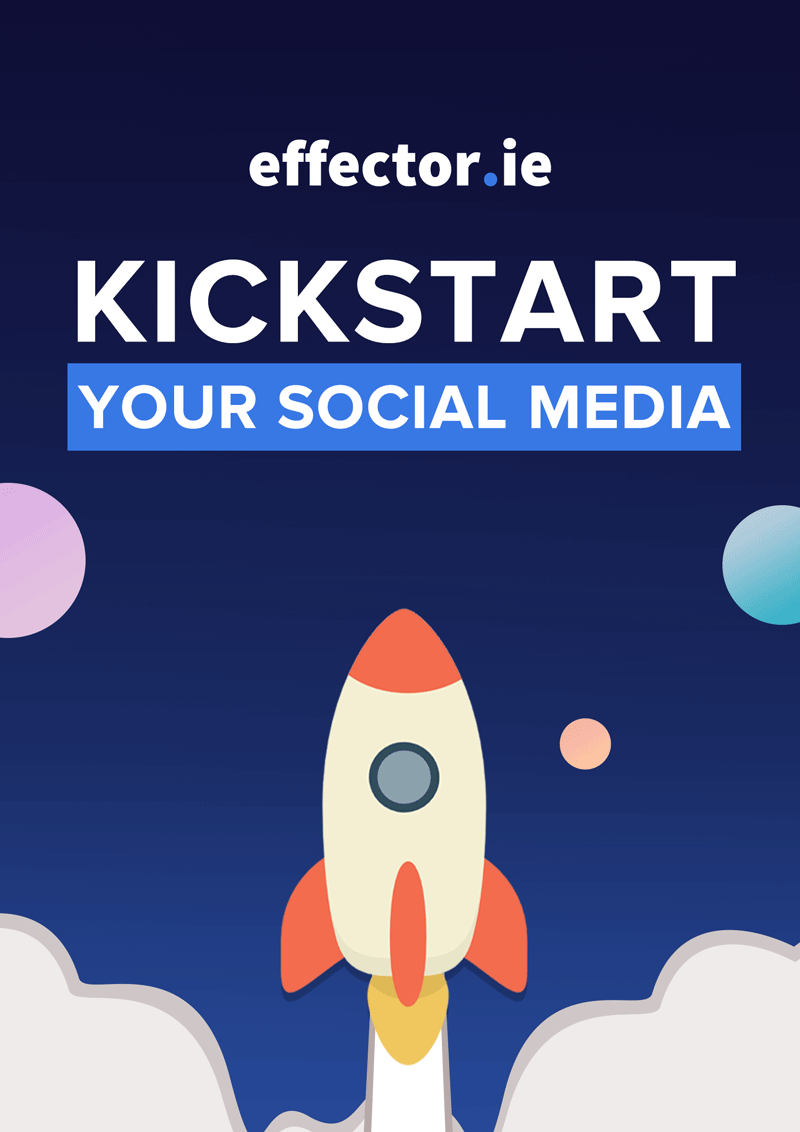 The Effector Guide to Kickstart Your Social Media
Struggling to get started with a consistent and effective strategy online? Use this guide to develop an understanding of how to make social media and other digital tools work for you and your business.
GET THE FREE GUIDE
3. Audit Your Website
Consider the effort you put into ensuring that your bricks and mortar store is welcoming. Is your website, your online shop window, also up to scratch? It should be when you are driving traffic to it through a digital marketing strategy.
These are the main things to check:
A: Is it representative of your brand?
Consistency is key when creating a strong brand. Take the time to check that your design elements are the same across all of your online platforms, this includes colours, fonts etc. There should be no doubt that your readers are on your page, it should look, feel and sound like you and your business brand, always.
B: Is it Search Engine Friendly?
There are plenty of SEO techniques which can help to ensure that search engines can find your site easily. While it is beyond the scope of this article to explore these in depth, you should at the least know what words your audience searches for to reach sites like yours. Once you have this information, take steps to ensure that these keywords are sprinkled throughout your site so that it can be indexed consistently.
C: Is it Mobile Responsive?
No matter what industry you are in or who your audience is, if you're in business and have an online presence, your website must be fully compatible with mobile devices. While those using mobile only remains a relatively small percentage 20%, 10%, and 7% respectively, the vast majority of internet users are accessing sites on a multiplatform basis. This means that If your site is not mobile friendly you are closing the door on huge potential.
D: Does it convert customers?
All our efforts in a digital marketing strategy are focussed on attaining one key deliverable, that is, conversions. It doesn't matter how successful we have been in all of the other steps if this step is lacking our efforts can appear fruitless. Bear in mind that a conversion can be any goal as determined by you; it does not have to be a sale. It could be getting the potential customer to sign up to your newsletter or to make a phone call. Regardless of the type of conversion, we need to ensure that the potential customer is guided along a path from their point of entry to the site to the point where they make the conversion.
Often a Call To Action (CTA) convinces the reader to convert. A persuasive Call To Action tells them what they need to do to arrive at the situation where you have solved their problem.
4. Create Great Content
Content is the fuel that should drive your digital marketing strategy. By creating valuable, high-quality content that's targeted at the well-defined audiences you identified earlier, you'll do more than attract visitors to your website: You'll attract the right visitors, who are likely to convert into leads (and customers). Content comes in all shapes and sizes, and the more tailored you can make it to your audience, the more successful your digital marketing campaign will be. Your content can consist of blog posts, infographics, quotes and social media content, or any combination of the four. Familiarising yourself with the type of content your audience tends to consume online will help you ensure that you are creating content which they will enjoy and derive value from.
5. Measure Your Success
Once you have put all the elements of your digital marketing strategy in place, take a step back to check that everything looks and works as it should. The tools available in digital marketing make the process a lot more targeted than traditional marketing. We can monitor our efforts in real time and make changes as needed. If you make a change on a platform like Facebook or Google, they take effect in minutes. Analytics yields a vast amount of information about the traffic visiting our sites and this information is invaluable in terms of learning from past mistakes and building upon successes. It is essentially your audience speaking to you and is the most valuable learning tool out there.
All this may seem like a lot to think about. Just think of it in small bite size pieces rather than letting the implementation of a campaign overwhelm you. Take each step at a time and then build on it. Remember too, that the lessons you learn from each campaign will give you key information for the next one. Each time you begin a digital marketing strategy you will be better off than the last time.
Click here to learn more about how we can help you use digital tools to drive business results, and feel free to reach out if you've any questions!