"Ask not what you can do for your country. Ask what's for lunch."
– Orson Welles
We've all been there. Drooling over Instagram food pics on a Saturday morning trying to decide where to go for a late brunch. Little do we think that the food business is one of the most competitive markets to be in. Because of this, how a restaurant markets itself can be the difference between success and failure. You might have the greatest tasting food in the world, but if you're not actively marketing your product in the correct way, you simply won't make it in the food industry. Word of mouth can be a great thing, but it can't be the only thing. In today's society, using technology in one form or another is key to your success.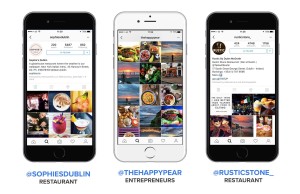 Check out our 5 ways to use online marketing to reach foodies:

1. Instagram Foodie Photos
If you've ever logged onto Instagram, you'll understand that food porn is alive and well.
Arguably the very best way to promote your restaurant online is with high-quality, drool-inducing photos. Visual content is in high demand online these days, and having delicious looking photos on your website and across various social media outlets is essential for drawing hungry eyes.
You don't need to hire a pro to take some top-notch photographs, some of the best content is taken on a mobile phone. Try it DIY style with your smartphone, you'll be surprised with the results. Be warned, – taking really great food photos can be tougher than it looks, as lighting is often a key factor.
Two Dublin restaurants doing it brilliantly are @SophiesDublin and @RusticStone.

2. Loyalty Programs
Partnering up with online food apps should definitely be a consideration as part of your restaurant marketing plan. Partnering with online apps encourages visitors to check out your restaurant through gamification and loyalty programs, which offer visitors a free purchase or discount for visiting a certain number of times.
There is so much scope to tap into this area. Not to mention advertising your food delivery services on Just Eat.ie or Deliveroo.

3. Yelp & Tripadvisor
Yelp & Tripadvisor both have tremendous power in the restaurant industry, and having a strong backing of positive Yelp or Trip Advisor reviews is like having a flock of golden geese – good reviews online can do wonders for your business.
The most important thing to understand is that people can and will review you, even if you don't set up an account. For that reason, as a restaurant owner you should absolutely be proactive and dress up your Yelp and Tripadvisor account so it works for you, rather than against you.
This means adding as many simple details as possible, such as:
Photos, and lots of 'em
Store hours
Location
Menu
Price Range
Wi-Fi/Outdoor Seating/Parking/etc.

4. Snapchat & Twitter
Check out the guys over at @TheHappyPear. We mentioned them in last week's blog "How to use Instagram Stories to Build Your Brand" because they have such a strong following. They use Snapchat as a platform to drive masses of customers to their small restaurant in Greystones, Co. Wicklow.
Along with Snapchat, Twitter is another great platform to promote your restaurants competitions, get bookings, post recipes and grow your following. Check out @TheTaste_ie who offer all kinds of competitions to win everything from brunch to vouchers for up to €500. This kind of competition is designed to initially attract the consumer and hopefully spark something to make them come back for more. If executed properly – the reaction and engagement on social media can be worth it. Proven by the fact that they have just under 100K followers on Twitter.

5. Facebook Ads
A Facebook feature allows advertisers to target consumers based on zip codes, which means that you can blast an ad to those who live within walking distance of your restaurant. There are some tricks of the trade when exploring the world of Facebook advertising, and it can be an effective way to build your fanbase on Facebook. @WhiteMouseCafe in Dublin is a great example of a company using Facebook posting to promote their restaurant with the right personality for their target audience. It's important to play around with your businesses online voice and find a balance to suit your audience.
If you are in the food business we hope this article helped you rethink your social media marketing strategy.
Remember you know food, we know digital.